How does the partnership with Star Pubs & Bars work?
We've got two models, and we'll work together to see which model is right for you. Once you've got the right agreement in place, we'll make sure you're backed with the best support and investment to help make the pub a success.
You can take on a pub under our Leased and Tenanted (L&T) model. Or run a pub under our Just Add Talent management agreement, if you need a little more support.
Through Just Add Talent, you'll take on a ready-made pub with a tried-and-tested food and/or drinks offer, feeling confident that you have the support of a great team with a deep understanding of the industry behind you.
Upfront costs to cover
As with any business, there are initial investments to get things off the ground. Costs typically depend on the pub, the agreement and how you intend to operate. However, the lowest entry cost is through our management agreement, Just Add Talent. You'll need £4,000 in unborrowed funds to get started. To take on a pub with a Leased & Tenanted agreement, initial operator costs vary. We discuss all costs and investments from the outset to keep everyone clear. Check out our current vacancies for a feel for the upfront costs. But to give you an idea, here are our 'rule of thumb' costs: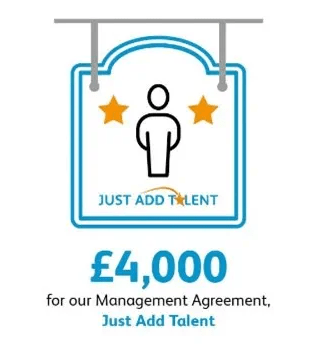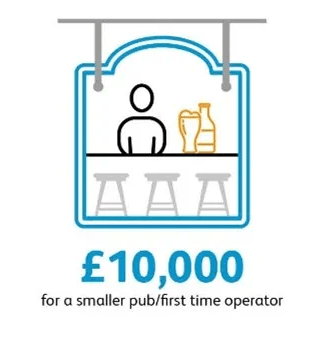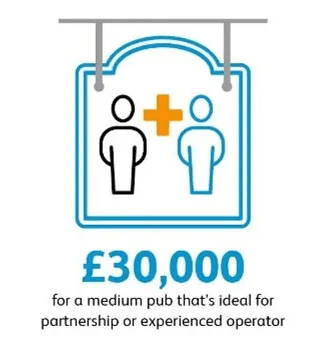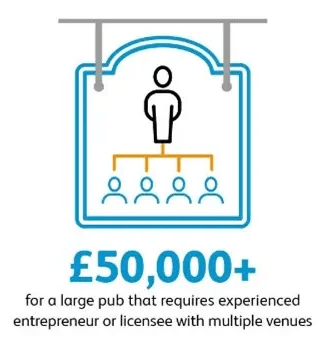 Working with Star Pubs & Bars
We'll support viable plans with the commitment, investment, benefits, and expertise you'd expect working with one of the UK's biggest beer and cider producers.
With your dedicated Business Development Manager, we'll make sure you're on the right agreement and set up with the skills and knowledge to hit the ground running. Our partnership is built on respect and commitment to making the pub a success. And we'll be there to discuss ways to improve your pub, alongside offering training and support over the long term.
Why choose Star Pubs & Bars?
We're looking for long term partners with talent and the ambition to run a successful pub business – and we're passionate about helping to create great British pubs that are independent in their look and feel. It's about connecting the right person to the right pub. Because when that happens, the business can thrive, and the community gets a fantastic pub to visit.
Learn about our 5 Star Promise
Find your perfect pub
Whether it's a family-friendly local or a sports bar you are looking for, we've got some amazing opportunities for you. Browse our available pub vacancies or get in touch with our team if you have somewhere or something specific in mind.
Management Agreement Vacancies L&T Vacancies
What will the process be like?
Every case is slightly different, and there's a more in-depth application process for people taking on a pub through our Just Add Talent programme to make sure it's right for you. But we keep things straightforward. The process is designed to make sure you're ready and that the pub, the agreement, and Star Pubs & Bars, is right for you.
For someone thinking about taking on a pub as a Star Pubs & Bars licensee (and not through our Just Add Talent programme) it's important to recognise that our business is governed by the regulations laid out in the industry-wide Pubs Code. Overseen by the Pubs Code Adjudicator, the Pubs Code is designed to ensures the relationship between the pub company and licensee is fair and transparent. You can find important information on the Pubs Code here. And for useful information from the Pubs Code Adjudicator on your rights and our responsibilities, we recommend you look at the regulator's website throughout the recruitment process.
Once you've reviewed the pub and agreement information, and got your own housekeeping in order, from your initial application to opening the doors to your pub, it tends to take 4-6 months.
We have step-by-step guides linked below for our applicants.
How the Leased and Tenanted application process works
We have a simple process from finding your perfect pub to picking up the keys
2. Telephone Interview

A Recruitment Support Manager (RSM) will then be in touch, ask about your experience. discover your vision for the pub and why you think the industry is right for you. (If you haven't yet, we'll point you in the direction to get your personal license training sorted too).

3. Kick-off Meeting

If successful, we'll arrange a face-to-face meeting with the pub's Business Development Manager (BDM) where they'll share their insight on the business, point out the useful support available and what it's like working with Star Pubs & Bars.

4. Business Plan

Then we'll ask you to prepare your business plan, give you time to seek independent financial and business planning advice and make sure you've got all the information you need under the Pubs Code to finalise your vision.

5. Business Plan interview

Once you've shared your business plan, you'll sit down with your BDM to talk about the specific details of your vision for a sustainable pub business.

6. Pre-Entry Training

Our award-winning training programmes will help set you up to take on a pub with us and focuses on bringing your business plan to life. You'll also complete the BII's Pre-Entry Awareness Training (PEAT).

7. Final Preparations

We'll meet up to discuss the key points of the agreement to make sure you understand and are happy with them.

8. Start Day

Once the agreement is signed, the pub is yours to manage!