Local investment. Right across the country.
The pandemic accelerated two major trends that Star Pubs & Bars were already aware of, one that was about enjoying more premium beer, cider and food and the other getting outside and experiencing this food and drink in a beer garden or outside setting. That's why we invested £42 million in our High St and suburban pubs and bars – creating over 700 jobs – which taps into the desire for your customers to socialise and spend locally, reconnect with their communities and make your local the heart of your community.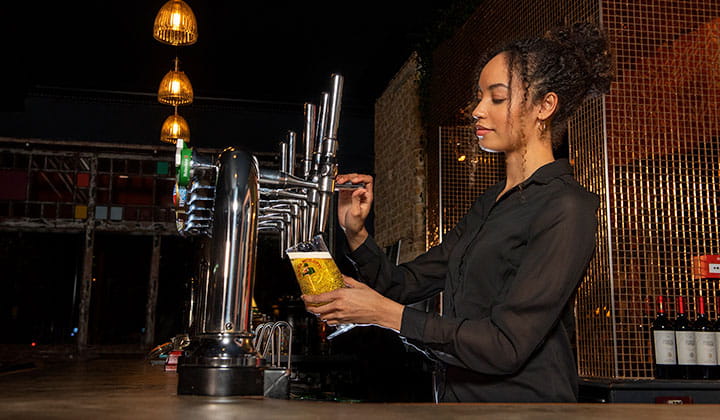 The best way forward.
Our business never stops moving and if the pandemic has shown us anything, it's that it's so important to be able to adapt to any circumstances. That's why our Leased and Tenanted (L&T) pub model is so successful.
Support exactly when you need it.
We're really proud of the support systems we put in place for our we provided for our L&T pubs that helped ease the pressures of the pandemic. We care about your pub and livelihood and because most of our pubs are L&T pubs, it was so important to give them all the support they needed. We introduced:
A huge financial support scheme which has included over £62 million in rent concessions.
In-depth staff training programmes and industry support on new legislation, including new Health & Safety training, detailed guidance on reopening and even virtual wine-tasting.
Continued with improvements and refurbishments with £38 million spent on upgrading pubs in 2021 which covered one third of all our pubs and created 500 jobs.
Being a Star Pubs & Bars licensee means you can also tap into buying power that saves you money thanks to our Buying Club that negotiates preferential commercial terms on a wide range of goods and services from suppliers like Sky, Biffa and Nesbits.
HEINEKEN is in our heritage.
We're the UK's leading pub, cider and beer company and the name behind a host of brilliant beer and cider brands from Inch's to Birra Moretti and many more. We love the great British pub. And it's shown in the fact that our 2,400 Star Pubs & Bars around the UK put pubs at the centre of community life and provide training and jobs for thousands of ambitious people like you.
Now that you've found out a bit more about us, we want you to help us continue to create the greatest pubs and bars in the UK. We know you're the one with the vision and the talent, our job is to help you make it a reality.