Taking on a pub with us: What's in it for you?
You're the one with the vision and the talent, our job is to help you make it a reality by offering the expertise and the benefits you'd expect from HEINEKEN UK's pub business. We're passionate about helping to create great British pubs that are independent in their look and feel. The quality and diversity of pubs across our estate is a testament to that fact. This is no cookie-cutter operation.
Our partnerships are transparent, commercially attractive from day one, and give you access to product or service deals to keep your operating costs down. Taking on a pub with Star Pubs & Bars means you'll have as much, or as little, support as you want across your business, over the long term.
Why choose Star Pubs & Bars?
Whether your great idea is for a premium destination pub, a family-friendly local with great food, or a sports-focused bar in town, we're committed to backing entrepreneurs with the right vision. We ground our partnerships with multiple operators on respect and a mutual drive to succeed. We created our 5 Star Promise to outline our commitments and the opportunity for you on our Leased & Tenanted (L&T) models.
Learn about our 5 Star Promise About us
Upfront costs to cover
Any pub business requires some upfront investment from the operator. The amount depends on the individual lease and pub. As you know, they are all different and will require varying levels of investment to get the pub ready. Together, we'll discuss all costs and investments from the outset to keep everyone clear. Here is our rule-of-thumb-guide: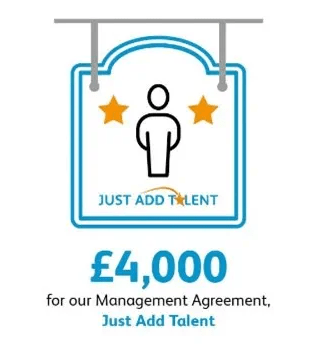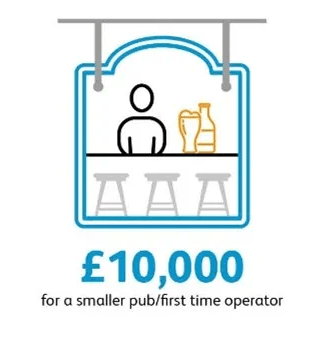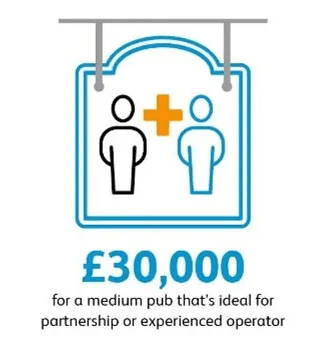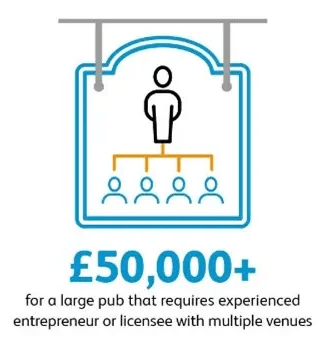 Find your next pub
We'll make sure you're put in contact with the right person if you have something specific in mind so feel free to get in touch with the team today. Otherwise, check out what's currently available.
What's the process like?
It's relatively straightforward. First, you need to review and confirm you're happy with the pub and agreement information. Then it could take a matter of weeks if housekeeping is in order and the process is smooth. To manage expectations, it tends to take between 2-4 months. Every case is different but there are a few milestones along the way to make sure the pub, and Star Pubs & Bars, is right for you. Check out our process to becoming a partner.
2. Telephone Interview

A Recruitment Support Manager (RSM) will then be in touch, ask about your experience. discover your vision for the pub and why you think the industry is right for you. (If you haven't yet, we'll point you in the direction to get your personal license training sorted too).

3. Kick-off Meeting

If successful, we'll arrange a face-to-face meeting with the pub's Business Development Manager (BDM) where they'll share their insight on the business, point out the useful support available and what it's like working with Star Pubs & Bars.

4. Business Plan

Then we'll ask you to prepare your business plan, give you time to seek independent financial and business planning advice and make sure you've got all the information you need under the Pubs Code to finalise your vision.

5. Business Plan interview

Once you've shared your business plan, you'll sit down with your BDM to talk about the specific details of your vision for a sustainable pub business.

6. Pre-Entry Training

Our award-winning training programmes will help set you up to take on a pub with us and focuses on bringing your business plan to life. You'll also complete the BII's Pre-Entry Awareness Training (PEAT).

7. Final Preparations

We'll meet up to discuss the key points of the agreement to make sure you understand and are happy with them.

8. Start Day

Once the agreement is signed, the pub is yours to manage!