Work Starts on Massive Refurbishment to Reopen Well-Known Barking Pub
30/11/2022
Investments , News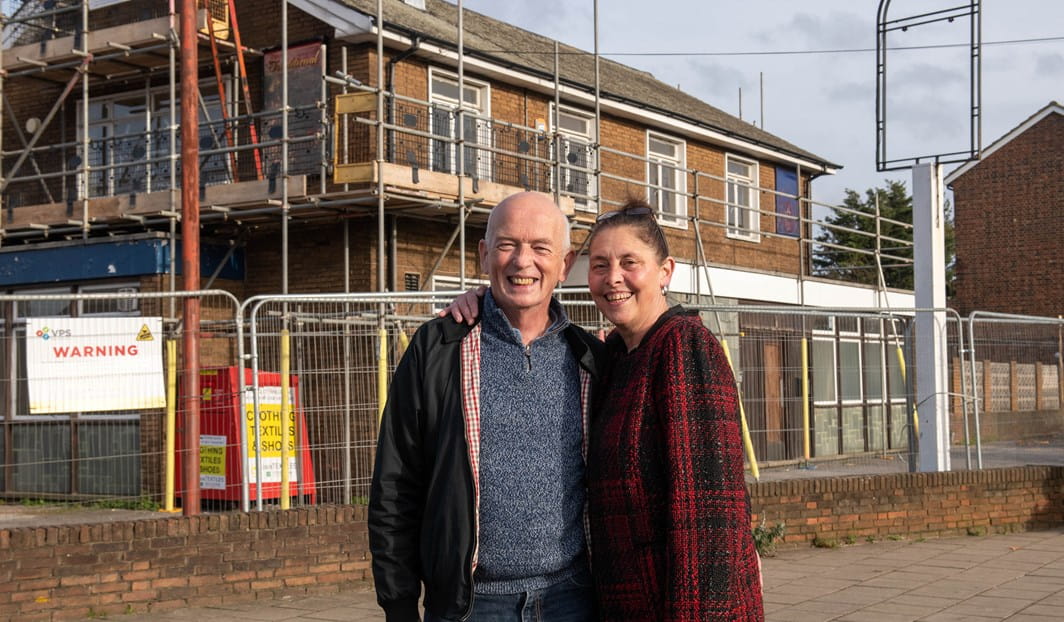 Work is starting on a £300,000 refurbishment that will reopen a well-known Barking pub after a four-month closure, transforming it into a great quality, family-friendly local and bringing to an end residents' concerns for its future.
The Lighterman, on Charlton Crescent, is the only pub on the Thames View estate and became an Asset of Community Value in 2018 at the request of local people. 
The investment into the pub is being undertaken by Heineken-owned Star Pubs & Bars and will see Barking residents David and Lorraine Smith take the helm as the new licensees. It will introduce food, events and live sports and revamp the garden, turning The Lighterman into "a local that has it all," according to David.
The project will overhaul the outside of the tired building with new paintwork, cladding, signage and lighting, enhancing the neighbourhood. The large rear garden will have a makeover, too, including new seating, a covered section for all-weather use and festoon lighting. 
The refurbishment will completely upgrade The Lighterman's dated interior, making it more comfortable and stylish. The design will incorporate timber flooring, leather-covered seating, feature lighting and heritage colours. The pub will have a traditional snug and a lounge kitted out with a spacious dining area, darts and a high-spec AV system showing BT and Sky Sports. A kitchen refit will enable the Smiths to bring in traditional pub food such as fish & chips, burgers and sausages & mash. Dishes will be good quality but reasonably priced, and there will be a separate children's menu.
The Smiths are aiming to put The Lighterman on the map for its drinks as well as its food. The installation of state-of-the-art dispense equipment in the cellar will ensure consistently perfect pints of draught beer and cider, and there will be an extended selection of premium wines, spirits and cocktails. 
David and Lorraine say they are keen for The Lighterman to become a "hub of the community that caters for all." To that end, the couple plan to start a host of activities to bring residents together, ranging from music nights to children's parties. The duo will open up the pub as a meeting space for local organisations and groups, and hold charity fundraisers for local good causes like the Osbourne Partnership in Dagenham. With a new emphasis on sport, the Smiths are appealing for anyone interested in setting up teams for darts and other games to get in touch. 
The Lighterman is the Smith's first pub. Lorraine (a care worker) and David (an HGV driver) have always wanted a pub of their own and are giving up their jobs to take over The Lighterman. Says David: "It's a dream come true. We're very sociable and enjoy meeting people and going to pubs, so having one of our own has always been our ambition. The Lighterman looks unloved, but as soon as we saw the plans, we knew it was 'the one' – it'll be amazing after all the investment. The area is crying out for a good family-friendly local that also provides somewhere to eat out. People are desperate for The Lighterman to reopen. We can't wait to open the doors and show residents their new-look local."
Says Star Pubs & Bars' area manager Michael Lee: "We're delighted to be joining forces with David and Lorraine to give The Lighterman a new lease of life and broaden its appeal. There'll be many more reasons to visit and something for everyone once the work is done. David and Lorraine are passionate about making The Lighterman a brilliant pub that is an asset to the local area. We wish them all the best."