The Very Best Pub Gardens in the UK
08/04/2021
News , Case Studies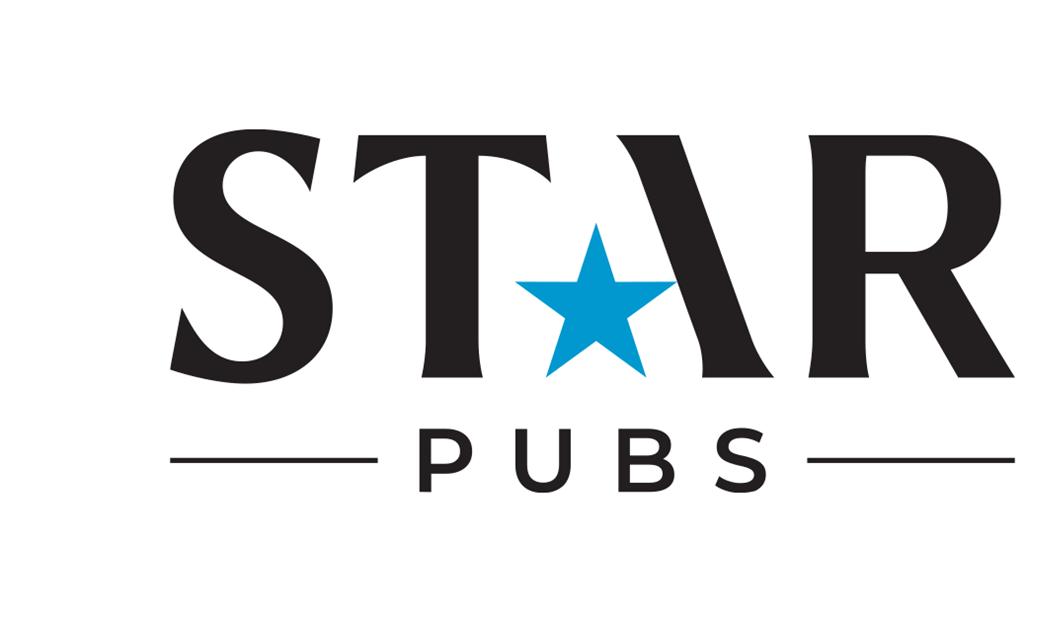 With pubs beginning to reopen as of 12 April, there really is no better way to spend a sunny afternoon than in a pub garden. We've put together a list of some of the very best pub gardens in the country. From private booths to your very own beer pump, a pint in a great British pub garden has never been so exciting.
The Derry, Stockton-on-Tees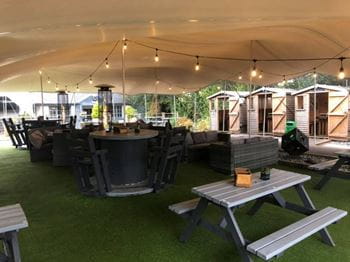 The Derry has a huge garden with a massive 13 x10 metre stretch tent with heating, new dining tables and a choice of seating for use whatever the weather. There are also bookable shed-style pubs, a TV with Netflix and even your own Birra Moretti beer tap! When life returns to normal there's an outdoor pool table, and plenty of activities for the kids - with a play area, mini climbing wall, wooden fortress and bouncy castle. There's something for everyone.
The Butlers Arms, Pleasington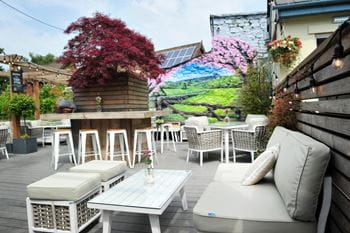 Take a seat on the terrace and relax under the beautiful foliage with ice pit tables, an outdoor bar, fire pit and blankets to keep you warm. If you're feeling active (or competitive) there's a manicured bowling-green ready to play on!
The Swan Inn, Worcester
Enjoy a cold beer and locally sourced food as you catch up with friends among wild roses and daisies. Cute. The Swan Inn is currently in the process of building a large oak gazebo over our patio to provide cover and have invested in new outside tables so there is loads of weatherproof outdoor seating!
The New Inn, Hurstpierpoint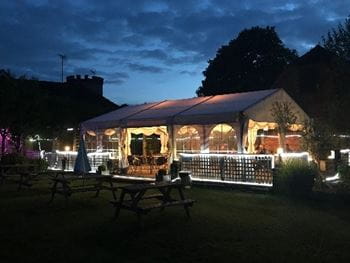 This spacious walled garden in the centre of the bustling village of Hurstpierpoint near Brighton is a beautiful spot for al fresco dining with a 20 tables, a raised decking area and a substantial marquee capable of seating up to 50 people.
The Mug House Inn, Worcester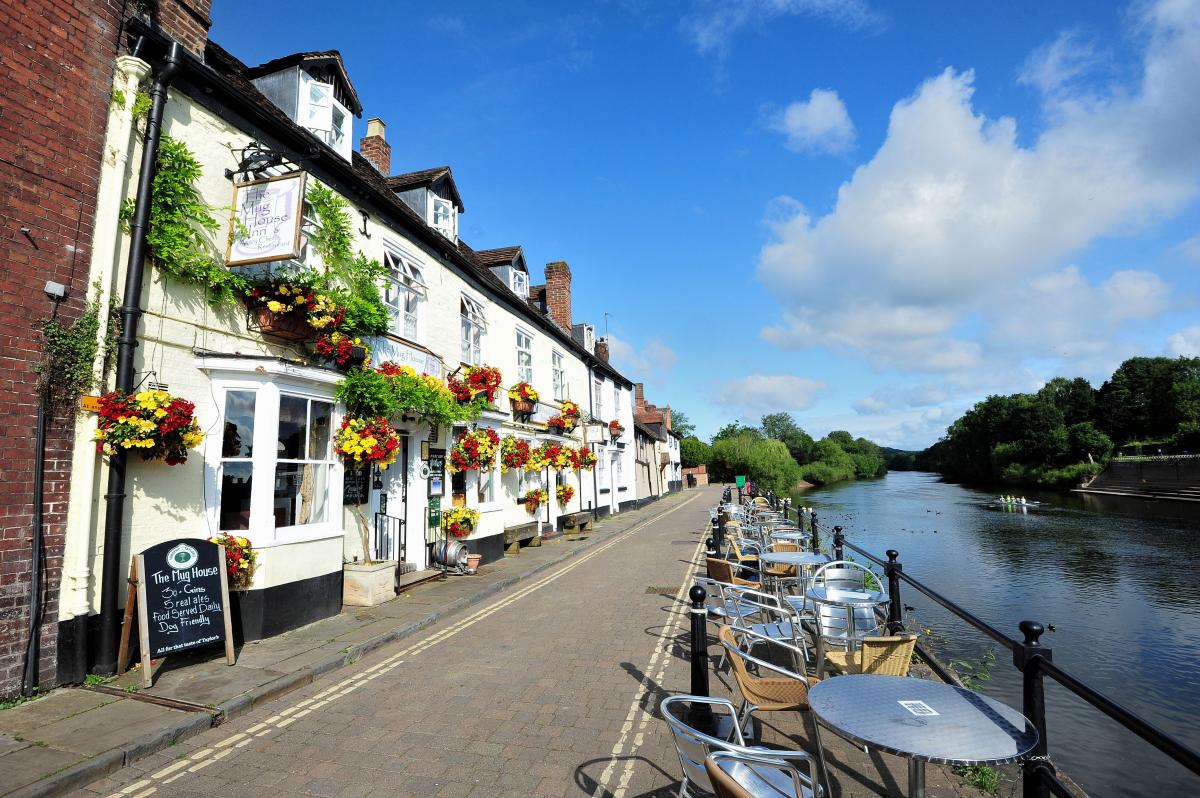 Enjoy a drink at this picturesque riverside spot or visit the pub's stunning hidden garden which includes its own traditional wood burning pizza oven and bar. Sheltered from the elements and beautifully lit up at night, it offers the perfect alfresco experience.
The Blue Ball, Tadworth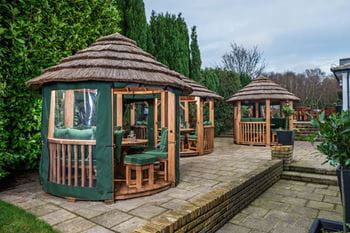 Chilly outside? Treat yourself to a cosy, heated pod where you can channel your inner Cinderella and summon designated serving staff using a call button. Mmmm fancy...
Old Tiger's Head, Blackheath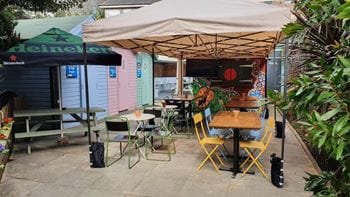 90% of the garden is undercover either under gazebos or fixed roofing. There are 3 beach huts, an outside bar, a decking area and a designated smoking zone. Food and craft ales served and live sports shown.
The Red Lion, Shepperton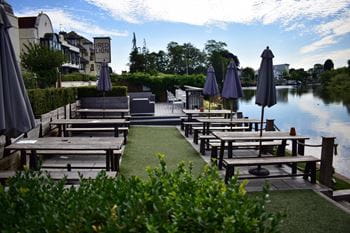 Kick back and watch the boats head down the Thames as you enjoy a pint in this Balearic style location, listening to chilled, summer music. New comfy sofas ensure you'll never want to leave! You've a choice of riverside or courtyard garden and once restrictions are lifted can book one of the new Luxury dining cabins with leather seats, heating and sound system.
The Golden Grove, Chertsey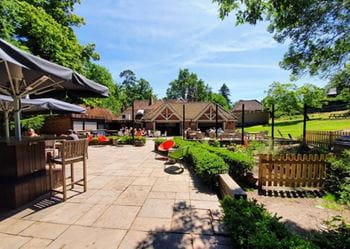 Nestled in the woods, the relaxed upcycled seating and outdoor kitchen offering flame-grilled food, make this dog-friendly one acre garden a 'must-visit' after a walk in the surrounding nature reserve. Under lit, heated 5m x 5m umbrellas provide shelter whilst sofas create an Ibiza feel.
The Winterton Arms, Chiddingfold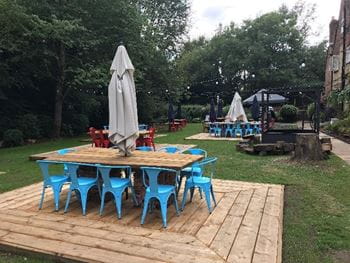 What's better than steak and beer? Outdoor steak and beer, that's what. If you're a meat-lover - enjoy al fresco dining at this modern chophouse. Sit around large tables basking in the glow of the fantastic fire pit and overhead festoon lighting.
The White Lion, Bingham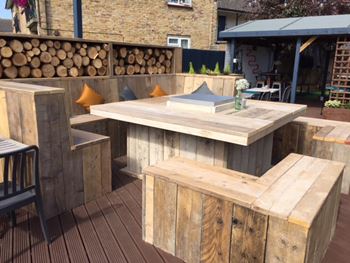 One of the best family-friendly outdoor spaces in the area. It boasts a heated covered seating area, fire pit and heated garden sheds - perfect whatever the weather - and once restrictions are lifted, a pool table and darts board.
The Windmill, Linton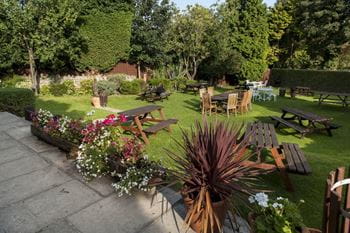 In the heart of beautiful Linton this charming, friendly pub garden is the perfect place to enjoy a drink and a bite to eat on a sunny day. For something a bit special, keep an eye out for the popular garden beer festivals.
The Bridge Tavern, Hammersmith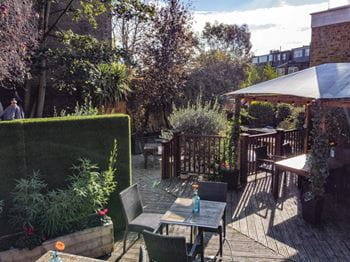 Sit on the pub's massive decking among palm trees, (yup, palm trees) and settle into the plush seating in this beautiful, secluded garden. Two covered areas - one with walls and ceiling in fake grass - offer all-weather options.
The Hare and Hounds, Bath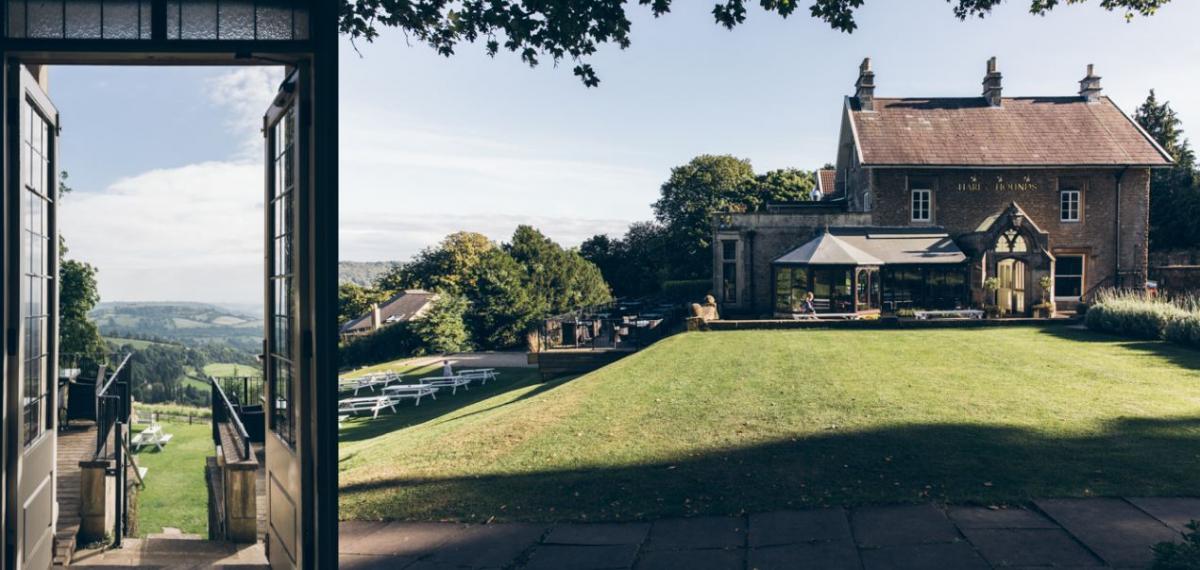 On a sunny day soak up the rays on the terrace and enjoy breath-taking views over the Bath countryside from the pub's hill top garden. The Hare & Hounds has a stretch tent and two other covered areas that together can accommodate 130 customers under cover plus further uncovered seating.
The Garratt, Wandsworth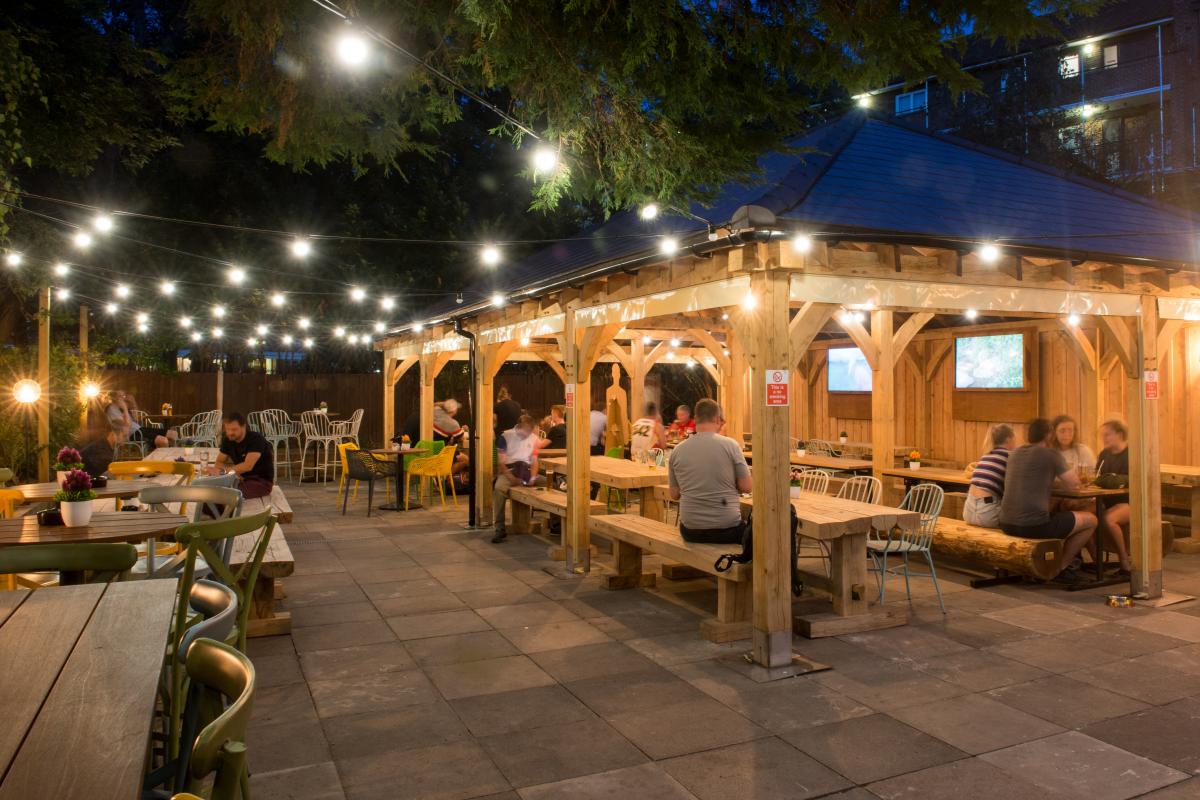 This spacious beer garden is the perfect spot to watch live sports into the night with a warm and welcome atmosphere.
The Hesketh Tavern, Manchester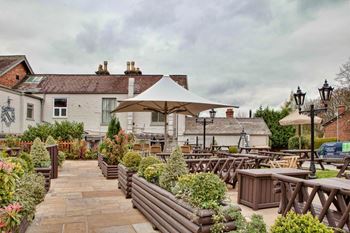 This charming pub with a modern twist boasts a large, award-winning garden. Despite providing seating for 150 people, you can easily keep an eye on your little ones while they enjoy the enclosed play trail, running the full length of the beer garden.
The Herne Tavern, Dulwich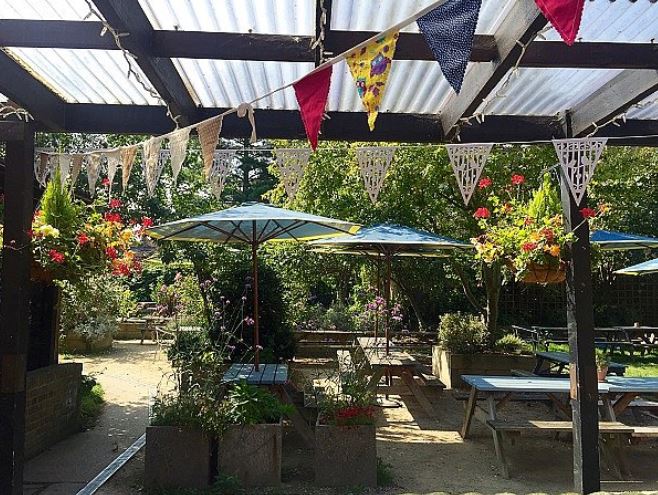 This oasis filled with trees and flowers is the perfect place to enjoy a sunny day. The vibrant bunting and bright hanging baskets will be sure to put a smile on your face as you sip an ice cold pint. One of the biggest pub gardens in Dulwich, The Herne Tavern can welcome 150 customers in its a weatherproof outdoor area.
The Eagle at Weeton, Preston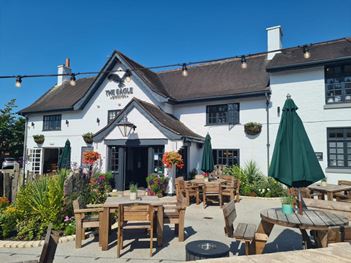 The Eagle's half acre grounds offers something for everyone including seating for 220.... there's a terrace with pergola and festoon lighting, an adult beer garden with boules court and outdoor table tennis. And for the under 12s, there's a tractor track with mini tractors, swings, climbing frame, adventure trail, bug hotel, book nook for reading and an imagination corner with chalkboard. Tavern can welcome 150 customers in its a weatherproof outdoor area.
Old Ale & Coffee House, Salisbury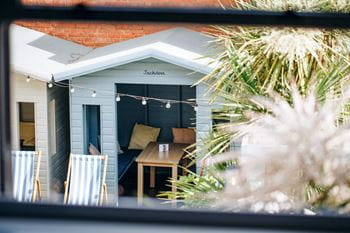 Located within a stone's throw of the cathedral in the heart of Salisbury, this laid-back city centre pub has an amazing outdoor space complete with bookable beach huts, heated marquee, new furniture and outdoor bar.