Publican Honoured for Nearly Fifty Years' Service in Glasgow Pubs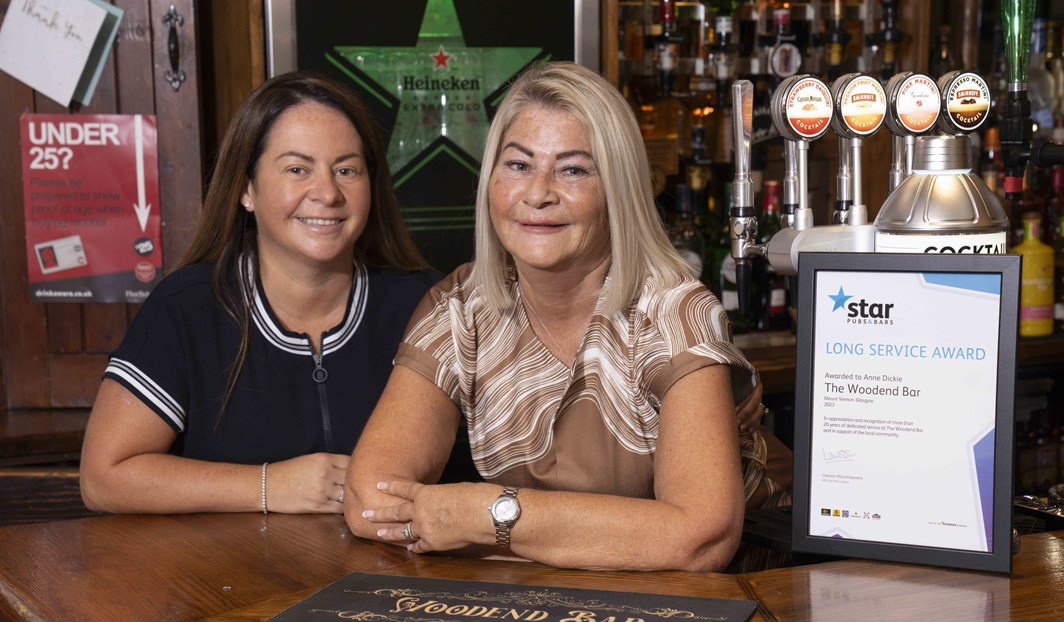 A Glasgow publican has a received a prestigious award to mark her retirement after more than 20 years' service at the helm of a much-loved, family-friendly East End local and a career of nearly half a century in pubs around the city.
East End born-and-bred Anne Dickie of The Woodend Bar on Hamilton Road in Mount Vernon was presented with the award by the building's owners, Star Pubs & Bars. The Woodend Bar is staying in the family, with Anne passing the reins to her daughter Lesley Weaver, who has already clocked up 22 years at the pub and says she "can't ever imagine leaving". 
Having been in silver service catering since the age of 15, Anne began working in pubs in 1976, starting out at Ocean's Eleven on Sauchiehall Street before going on to manage pubs like The Phoenix on Stepps Road, the International Bar on Aikenhead Road, the Queen's Park Bar on Dixon Avenue and the Argosy on Paisley Road West. Recalls Anne: "Pubs were very different back then. A pint was 56p, food was typically packet soup or a bridie and beans, and a lot of pubs were only for adults."
Anne took the lease of The Woodend Bar in 2001 when it was tired and had lost its way. Says Anne: "I could see its potential and worked every day until midnight for the first year to turn it round. Customers used to say I should put my bed in the bar!"
Over the years Anne has toiled tirelessly to maintain The Woodend Bar as a thriving pub for the neighbourhood, redecorating numerous times, adding a dining area and a new function room, and extending the garden. The pub is a meeting place for the local community, hosting a weekly quiz, sports screenings and entertainment nights to bring them together, and multiple generations of some Mount Vernon families are regulars. It also attracts Glaswegians from the wider area seeking out excellent pub food – Anne's famous lentil soup and steak pie made to secret recipes are favourites – or attending celebrations ranging from christenings to weddings in the function room. Customers' four-legged friends are not forgotten either, and have a choice of dog treats or sliced cooked chicken served with bowls of water. 
Says Anne: "I feel very lucky to have done a job I love for so long. People come in to the pub as strangers and leave as friends, whilst our regulars are like family. There has been constant fun and laughter along the way, as well as a lot of blood, sweat and tears. Pubs have been through some tough times but, thanks to a loyal team of staff and fantastic regulars, we've got through. It's a dream come true to be passing the pub onto Lesley – she's passionate about The Woodend, and it'll be in safe hands."
Comments Matt Dyson, Star Pubs & Bars' operations director for Scotland: "It's a great honour to present this award. Anne has put her heart and soul into The Woodend Bar, and it's a fantastic local with the warmest of welcomes. Numerous trends and bars have come and gone over the past two decades, but The Woodend and its exceptional hospitality have stood the test of time. Lesley has learned from the best and always goes above and beyond for customers. It's great news for the community that The Woodend is staying in the family."
Lesley is not resting on her laurels. Upcoming plans include fundraisers for local good causes, including a defibrillator outside the pub that is easily accessible to local residents. Adds Lesley: "I get a buzz from running The Woodend Bar every day; I can't think of any other job that would give me so much satisfaction."