The Unicorn on Church Road in Cardiff is to Reopen at the End of October
06/08/2023
Investments , News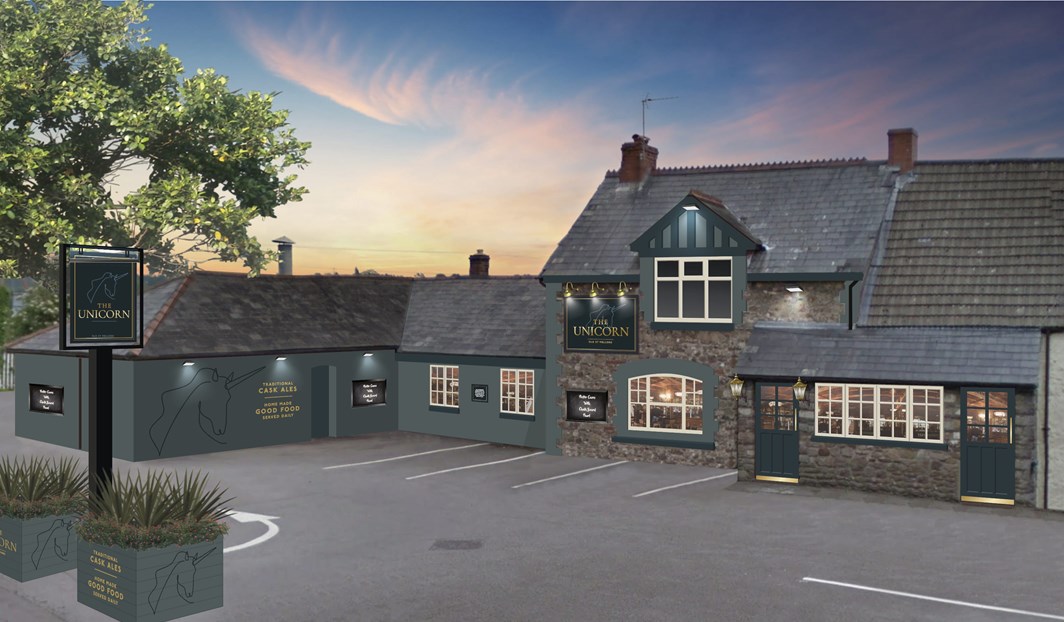 The much anticipated £1.4m refurbishment of The Unicorn near Cardiff Gate Retail Park has got off to a flying start with the reopening confirmed for the end of October and a new operator lined up to take it on.
Having received planning permission for the proposed alterations, the site has been cleared and essential repairs undertaken.  Work has now started on the complete transformation of The Unicorn to create a fantastic country style pub with a more contemporary look and feel to appeal local residents looking for a top-quality pub to eat and drink in.
The new look pub is being reconfigured to improve the flow within the pub and will increase covers to 124.  The changes will include a large new garden room extension with bi-folding doors leading onto a terrace, versatile dining space also with bi-folding doors, a lounge/dining area and a casual locals' bar.
The décor of the garden room will include sharing tables with large pendant lights above and a large chef's dining table.
The dining area will have a light and airy feel.  Seating will be an eclectic mix of banquette-style sharing tables and loose seating with either distressed wood or metal finishes and a fireplace to create warmth and character. Potted plants and framed artwork will complete the look. 
The lounge is a relaxed area for a casual drink or bite to eat.  There will be a mix of dining height tables and loose chairs.
The locals bar will include a variety of seating options including fixed benches with a leather button back design, feature cosy wing back armchairs and casual timber stools which along with the renovated fireplace will create a welcoming ambience.  Antique vases, candles and potted plants will all add character.
Outside a stunning new terrace is being created for drinks and al fresco dining during the warmer months as well as timber booth seating and poseur style high seating and planters and lanterns throughout.  In total there will be seating for 80.  Festoon lighting across the whole area will add warmth and ambience.  
The front of the pub is to benefit from a complete facelift with new signage, lighting and timber panelling on part of the exterior featuring a unicorn mural.  There will also be picnic benches and parasols and tall decorative planters to soften the look.
A new kitchen refit will enable The Unicorn to offer good quality but reasonably priced food focused on traditional pub favourites like fish & chips, burgers and steaks. Sunday lunches will be a specialty, and children will have their own menu. 
The Unicorn will offer a wide selection of premium wines, spirits, and beers as well as cocktails, cask and craft ales and Heineken 0.0.  A coffee machine will enable The Unicorn to serve coffee throughout the day. 
As part of the upgrade the latest dispense technology which improves the quality and consistency of draft beer and cider is being installed. The Smart Dispense System's unique cooling technology and line insulation from keg to tap is 20% more energy efficient than standard systems, keeping cider and beer colder.
Says Dave Morgan, Business Development Manager for Star Pubs & Bars in South Wales: "After many months of planning we're delighted to have broken ground and to be on track to open at the end of October despite the terrible weather this summer.  We appreciate the widespread interest in news about The Unicorn and wanted to share the progress we're making in renovating The Unicorn.
"It is on the outskirts of Cardiff, easily accessible both to Cardiff and Newport residents in the shadow of an historic church close to Cardiff Gate Retail Park.  So, what has been an eyesore will become somewhere the community and we can be proud of. It will be our flagship pub in Wales.
"As well as work on. The Unicorn we will undertaking a £220,000 upgrade of The Talbot in Pontyclun in August reopening it at the end of September as a top-quality drinks led pub."