The Trinity to Reopen Under New Management Following Revamp
14/02/2023
Investments , News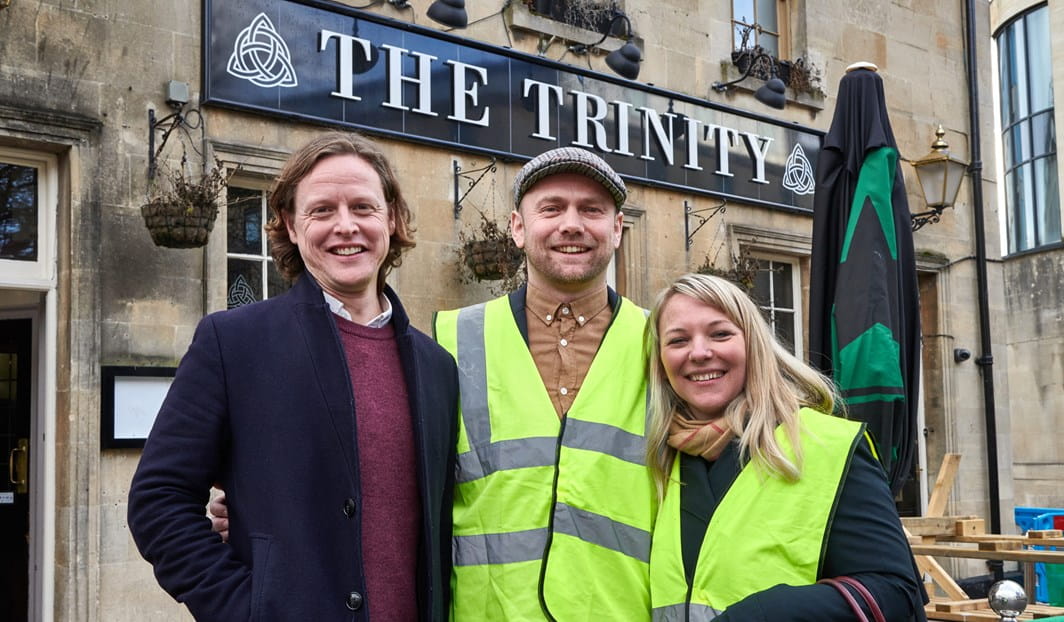 There's good news for Bath pub and sports lovers, The Trinity on James Street West is closing after service on 19th February for a £185,000 upgrade.  It will reopen under new management on 23rd March.
The pub, which has been open under temporary management since May, is having a top to toe revamp turning it into a top-quality city centre local with a focus on sports and eclectic live entertainment.  
New operators Tobias Goodnight and Tui Sancha are taking on The Trinity with the intention of creating the best city centre bar for drinks, watching sport and for live entertainment. The couple have 12 years hospitality experience working on the south coast and immediately prior to taking on The Trinity ran a vibrant gastro and live entertainment pub in Manchester.
The interior is being reconfigured to double the seating from 34 to 62.  The new layout will ensure fans can watch sport from anywhere inside the pub on one of the four new large high-definition TVs.
The top to toe redecoration will give the pub a fresher, brighter more contemporary look and feel with new pendant style lighting, high stools, upholstery and carpet.
Outside the tired looking exterior will be given a complete makeover with the stone cleaned and repointed, windows and roof renovated and the addition of new air force blue and black signage and new lighting.
As part of the upgrade the latest dispense technology which improves the quality and consistency of draft beer and cider is being installed. The Smart Dispense System's unique cooling technology and line insulation from keg to tap is 20% more energy efficient than standard systems, keeping cider and beer colder.
The Trinity will offer a wide selection of premium wines, spirits, and beers as well as cocktails, cask and craft ales and Heineken 0.0.  A new coffee machine will enable The Trinity to serve coffee throughout the day. 
Tui says: "We are brimming full of ideas of events to put on at the pub, but first we want to settle in, get to know locals and find out the type of activity that would most appeal to them.
We hosted successful comedy, open mic and jazz nights at our last pub, but would be interested to see if there would be an appetite for events like spoken word nights, Philosophers in Pubs, where philosophical subjects are discussed,  a book club and evenings with a guest speaker as well as open mic nights.
Tobias adds: "We are thrilled to be moving to Bath – especially as I am passionate about Georgian architecture - and look forward to enjoying the cultural highlights the city has to offer.  We are also really looking forward to becoming part of the local community and making new friends.  What better way to do this than running a pub in the heart of the city."
Gavin Perkins, Area Manager for Star Pubs & Bars says: "We are delighted to be giving The Trinity a new lease of life, making it more appealing for the local community and a new generation of potential customers.  
"Tobias and Tui are the perfect couple to take The Trinity forward as they are experienced successful operators with a passion for hospitality and creating a fun and inviting environment for people to come together. I wish them well."