The Thatched Tavern Honeybourne Gets a New Lease of Life
12/12/2021
Investments , News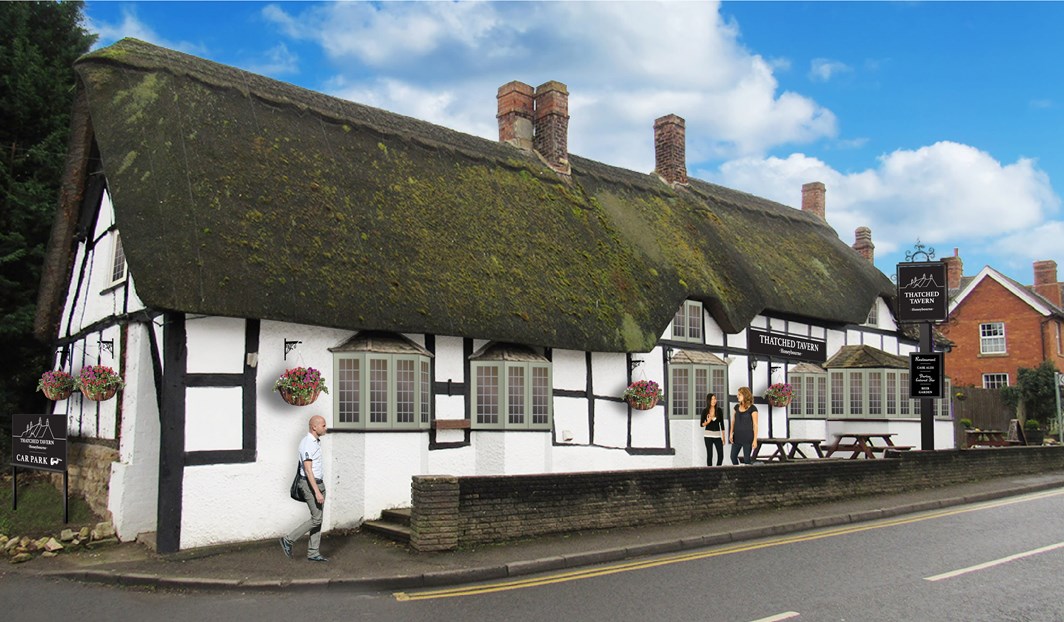 Building work starts on 22nd November on a £135,000 sympathetic upgrade of the historic Thatched Tavern1 in Honeybourne by Heineken owned Star Pubs & Bars2 and the pub's new licensees, local residents Martyn and Fay Mathias along with their daughter Amy. The three-week refurbishment will mean the pub is closed from 6pm on 21st November for one week reopening on 29th November with the remaining two weeks spent improving the pub exterior.
Motivated by a desire to create a fantastic quintessential village pub for the local community and to support Amy's ambition to have a career in hospitality, the family took on the Thatched Tavern in November 2020 during the height of the pandemic.
Fay, who is a former Director of Nursing at NHS England, and currently runs a healthcare consultancy says: "We've lived in the village for 25 years and felt after a series of temporary managers that the pub needed stability and some love lavished on it. Some people thought we were mad, but we've no regrets. It has been a baptism of fire, but it was the right decision. It's a real family enterprise. Although Amy has a master's degree in chemistry, she has always enjoyed hospitality. She is the general manager responsible for the day-to-day business, Martyn looks after back-office functions such as finance and purchasing."
The family took on the pub with the refurbishment in mind. However, Covid delayed building work. Undeterred by lockdowns and delays, the family pushed ahead with their own improvements to the pub installing a high spec wi-fi network so people can work from the Tavern, taking the oak beams back to a natural colour and overhauling the garden.
Fay was thrilled when she secured Lee Mcdonald as the head chef. Lee previously worked as head chef in a number of well-known and respected local establishments. He is French trained and has worked across the world. Lee worked throughout the covid lockdown by investing in a specialist pizza oven and operating a takeaway service. This maintained a customer base during lockdown. The takeaway service will continue to operate six days a week.
They have created six full and six parttime roles for local people since opening and source local seasonal ingredients supplied by environmentally friendly companies such as Maypole Butchers and Indigo Valley, an award-winning carbon-neutral coffee roaster. They encourage the use of biodegradable materials, minimisation of waste and are striving to be as carbon neutral as possible. As part of the refurbishment a Smart Dispense system, which produces consistent superior quality draught beer, and cider, whilst reducing waste, water and energy consumption is also being installed.
Inside, the bar and dining room seat 57. Funds are being spent on the installation of a commercial kitchen to enable the pub to offer a more extensive menu and upgrading the loos. A top-to-toe redecoration with walls painted in Farrow and Ball heritage colours in keeping with the Thatched Tavern's grade two listing has already been completed. Original features such as the fireplaces and flagstone floors have been retained.
Outside, there is seating for a further 82 in the front garden, courtyard and rear beer garden.
As part of the upgrade, the pub's thatched roof ridge is being repaired and new signage fitted, and the pub exterior is being repainted. A dilapidated outbuilding is also being removed creating more parking space for customers.
When the Thatched Tavern reopens on 29th November it will continue to offer a Mediterranean influenced menu with every dish made from scratch. A Christmas menu will also be available in time for the party season. Groups are welcome to book a table in the dining room for festive meals though Christmas Day is already fully booked.
The Thatched Tavern will continue to host regular events such as a monthly quiz, bands, karaoke and open mike nights.
Star Pubs & Bars Business Development Manager, Phil Mardon says: "We're delighted the Mathias family has taken on The Thatched Tavern, the only thatched pub in the area. As local residents and former customers at the pub, they know the area well and what people want. They are also passionate about creating a welcoming family friendly traditional village pub at the heart of their community. In spite of a pandemic and not having run a pub before they have turned it around offering great food, hosting events and fundraisers. This latest investment, will I believe help them take The Thatched Tavern to a new level, building on the hard work they have already put into the pub. I wish them well."
The refurbishment at The Thatched Tavern is part of a £38m investment that Star Pubs & Bars is making in more than 700 pubs in 2021.
The pub opens from 10am for coffee, tea, hot chocolate and homemade cakes with food served from 12.00-20.30 Monday to Saturday and 12-16.30 on Sunday.