The Shakespeare Closes for a Major Upgrade
01/12/2021
Investments , News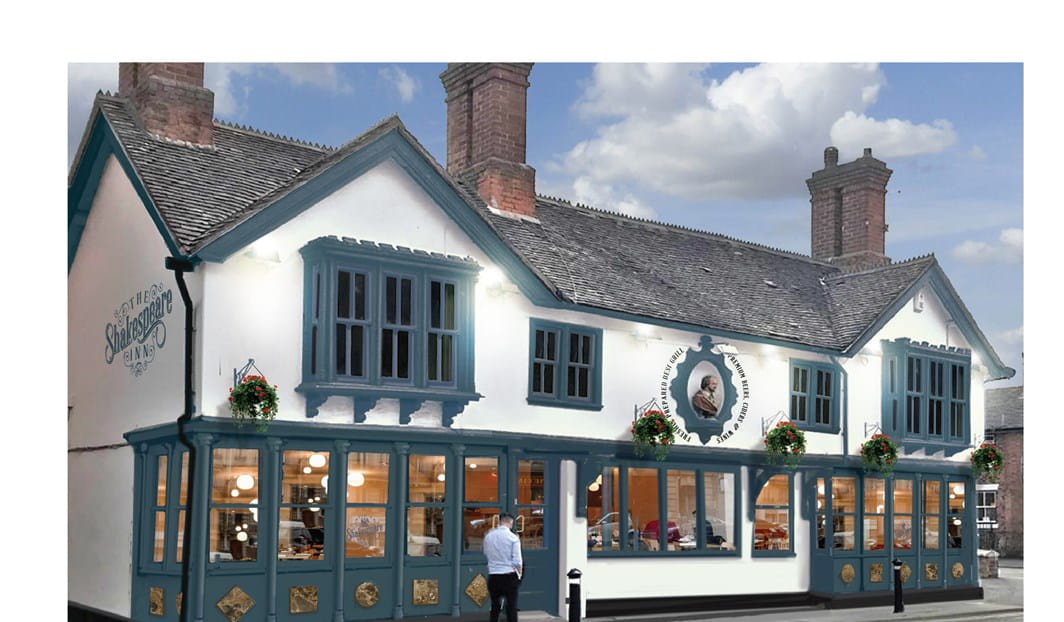 The Shakespeare on Upper Bar in Newport is to close at end of play on Sunday 31 October for a major £210,000 brewery upgrade by Star Pubs & Bars Ltd., Heineken's pub business, and new licensee Raja Singh is aiming to create the best family friendly pub on the high street. The work will build on the significant outside investment already made by Raja during the pandemic which created a covered beer garden with TV screens – The Shake Shack - with capacity for 150 and has been well received by locals during the easing of lockdown in 2021.
Four new jobs are being created on top of the eight Raja had already created at the pub since taking it on in 2019.
The last two years have been an emotional rollercoaster for the Singh family who have successfully turned around the fortunes of the pub. Highs included being thanked by the Queen's representative, the Lord Lieutenant of Shropshire, for their selfless community support, providing free meals for school children, and care food packages for the elderly and vulnerable as well as free curries for NHS workers. The low point was when Raja's father, Dalbag Singh, a much-loved local rugby player for both Newport Town and Shropshire county, and recently the pub's front of house, died from Covid in the summer.
In terms of the refurbishment, capital spending will target the upgrade of the tired interior, to create a rustic look and feel complimented with industrial style lighting, wood panelled walls and more comfortable seating including three booths with mesh style partitioning. Outside, the front of the pub is being given a facelift, redecorated in white and heritage green with new signage and lighting.
In conjunction with the pub's upgrade building works, the Shakespeare is set to launch a new and improved desi grill menu, offering more chef specials and new grilled sizzlers including the introduction of garlic and herb, lemon and herb and chilli and bbq flavours. The pub will also offer a daytime Indian themed brunch menu alongside English pub classics and a traditional English breakfast.
On the drink's side, a Smart Dispense system, which produces consistent superior quality draught beer and cider whilst reducing waste, water and energy consumption is being installed. There will be two cask ale hand pulls and Amstel and Orchard Thieves cider available on tap. Barista style coffee and a selection of teas and homemade cakes will also be available.
For pet lovers, dogs will also be catered for, with their own range of treats!
Entertainment wise, Raja intends to broaden the pub's appeal, holding community events like beer and gin festivals, bottomless brunches as well as having a resident DJ and hosting student nights.
Says Raja: "I was born and bred in Newport, just a stone's throw away from The Shakespeare, only leaving the area for a short while to work in hospitality in London. I used to go to The Shakespeare a lot when I was younger. I remember telling my grandfather, a former publican himself, that I would love to run it one day and so was saddened when it closed a few years ago. My parents and I, are foodies and had talked about doing something together for ages, and so this seemed to be the perfect opportunity to jump in and take on the Shakespeare and offer a top quality Desi mixed grill. It works really well, as there isn't anything like this within 10 miles. My mother heads up the kitchen and my father was front of house. Turning the pub around has been a real family effort. I now want to build on what we've achieved and broaden our appeal further, attracting all ages and cultures, and people from further afield"
Star Pubs & Bars Business Development Manager, John Dardis says: "Raja and his family have done a fantastic job with The Shakespeare. They have already increased trade by 50% and have been awarded 5 out of 5 on Trip Advisor. All 98 reviews recommend them. There isn't one bad one! They have also been passionate supporters of the local community, most recently raising nearly seven thousand pounds for the Newport Memorial rugby match sponsored by the Shakespeare Inn.
"We're delighted to be investing in The Shakespeare to take it to the next level and to support Raja with his exciting plans for the pub."