£250,000 Refurbishment to Reopen Keyworth's Oldest Pub
09/08/2023
News , Investments , Refurbishment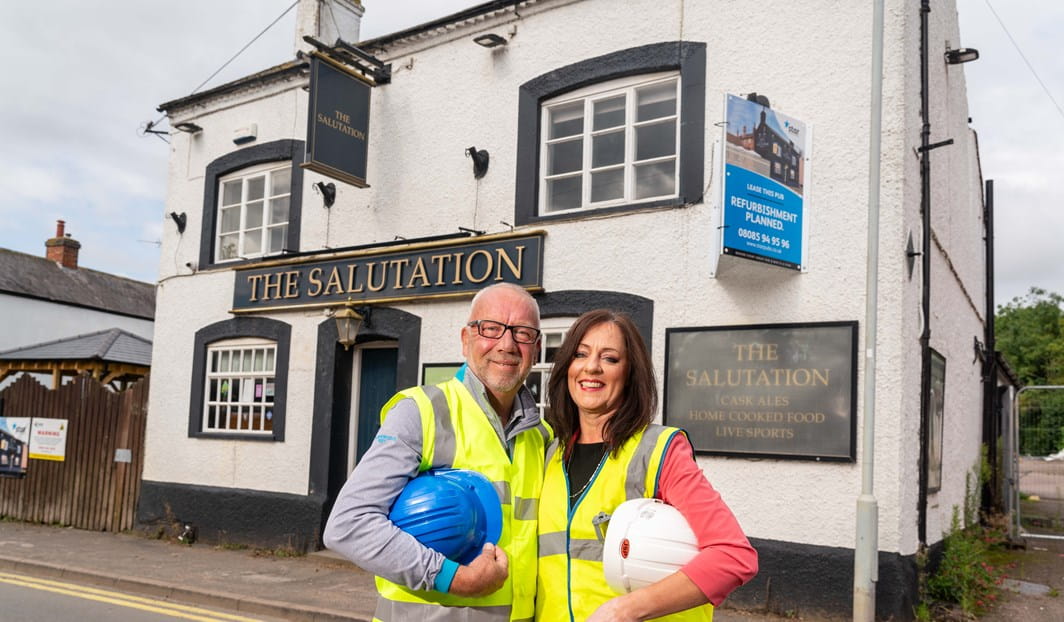 A £275,000 investment starts next week that will reopen Keyworth's oldest pub following its closure last October.
The refurbishment of the Salutation on Main Street is being carried out by Heineken-owned Star Pubs & Bars and new licensees, Keyworth residents Tracy Karas and Paul Keeling. The revamp will transform the historic inn – which is believed to date back to the 1600s – into a high quality traditional pub serving tapas-style fusion food from around the world.
Work starts on 14th August and the Salutation will reopen in late September, creating 10 jobs. 
Tracy and Paul – who most recently managed the local golf club – say they want to return the Salutation to the popular hub that Paul remembers from his childhood growing up in the village in the 1970s. Says Paul: "Back then the Salutation was the busiest pub in Keyworth. My parents were regulars and I spent many evenings there after matches with my Keyworth Cricket Club team mates or with friends. It's been terribly sad to see the Salutation shut up. It's a beautiful old building in a prominent location, and people are desperate for it to open again. We went to have a look and fell in love with it. We wouldn't have taken any other pub. Our aim is to make the Salutation a warm inviting place for the whole community, whether they want to enjoy socialising over drinks or a nice meal.  It will have a family-friendly atmosphere and dogs will be welcome."
The project will carefully renovate the outside of the Salutation, painting the exterior a classic cream, and adding new lights and signage. The secluded south-facing garden will have a revamp, too, with an extended patio, new seating and pretty planting. A covered wooden pergola will have lights and heating added for year-round use. 
The inside of the Salutation will be completely refurbished to a high standard with the design incorporating heritage colours, velvet upholstery and floral fabrics. The decor will bring out all the pub's character and charm, retaining and restoring features such as wooden beams, timber floors and paneling and keeping the open fire and cosy snugs. A revised layout will increase the number of seats from 68 to 100, whilst new doors will bring light in and open the pub directly onto the patio. 
A kitchen upgrade will enable Tracy and Paul to introduce freshly prepared food. To bring something different to Keyworth and the surrounding area, the menu will focus on international tapas cuisine served both as small plates for sharing and as mains. The couple are also installing a barista coffee machine and will offer locally roasted coffee and hot drinks all day, as well as afternoon tea with homemade cakes. Drinks-wise, Tracy and Paul are planning a wide selection of premium wines, spirits and beers including cask ales and craft beers.
Given the Salutation's historic standing, Tracy and Paul are keen to find out more about its past. The duo are appealing for anyone who has information or pictures of the pub in bygone days to get in touch and will be displaying old photos of the Salutation and Keyworth in the pub. 
Says Tracy: "The Salutation will look stunning. We can't wait to open the doors."
Comments Star Pubs & Bars' investment manager Mike Smith: "As local residents, Paul and Tracy have a fantastic knowledge of Keyworth and understand just what people want. They are passionate about creating a fantastic pub for the village. We're excited to be working with them to help the Salutation thrive again. With Paul and Tracy at the helm, the Salutation will be a great local as well as destination dining spot for those from further afield."