Major Refurbishment to Revitalise Prominent Arnold Pub
01/08/2023
Investments , News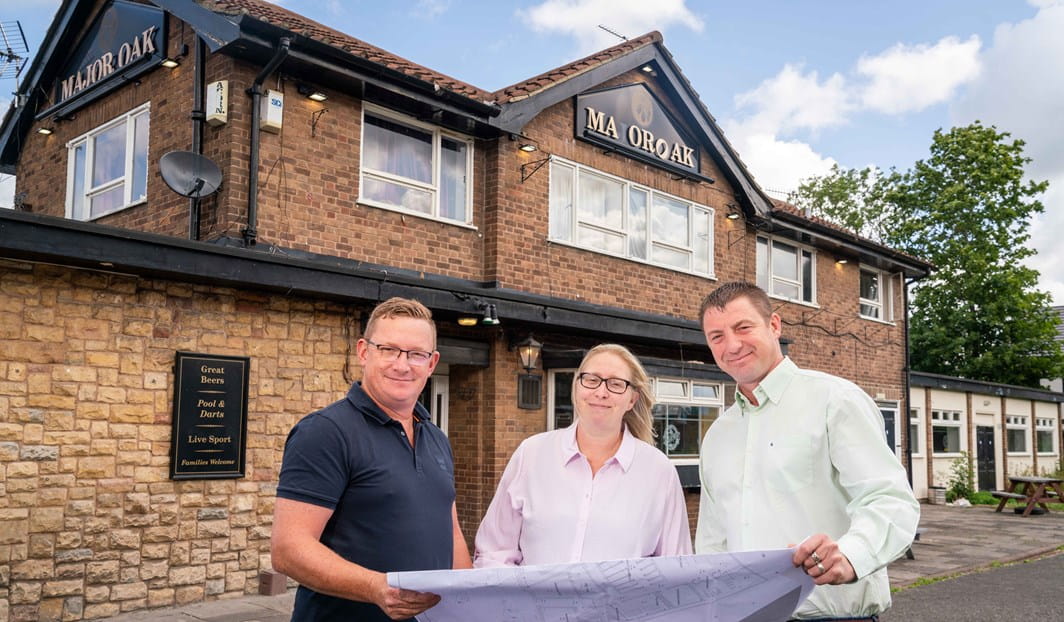 A well-known Arnold pub is to temporarily close for a £325,000 refurbishment that will give it a new lease of life.
The investment at the Major Oak on Rolleston Drive is being undertaken by Heineken-owned Star Pubs & Bars and Midlands pub operators Garry Astle and Marc Kershaw who also run The Three Wheatsheaves in Lenton and the Nags Head at Bobbers Mill.
The project will transform the tired local into a top quality family-friendly pub that caters for the whole community. It will have a sports room, function facilities, garden with children's play equipment and a new kitchen to enable the introduction of food.  Says Garry: "We're giving the Major Oak the full works. It's a huge pub and will have it all with something for everyone."
The Major Oak closes after last orders on 4th August and is scheduled to reopen in early September, creating 10 new jobs. Nottingham born-and-bred Kelly Mitchell  – who has worked in pubs around the city for 20 years – will take the helm as the new licensee.  
The overhaul will completely renovate the outside of the imposing 1960s pub with new signage, lighting and floral displays, enhancing the neighbourhood. A makeover of the large front garden will further improve the pub's appearance, adding seating for 120 and new planting as well as swings, a slide and a permanent bouncy castle. 
A complete internal refurbishment will upgrade the Major Oak throughout, making it more welcoming, contemporary and stylish. The pub will have a spacious bar and a separate comfortable lounge with its own toilets that will double as a function room for parties, celebrations and business meetings. Sports enthusiasts will be well looked after, too, with a dedicated games zone kitted out with a new pool table, darts and big screens showing Sky Sports. With the pub's emphasis on sport, Kelly is appealing for anyone interested in setting up teams for darts and other games to get in touch.
Thanks to a new kitchen, the pub will introduce an all-day menu focused on traditional pub classics such as pies, lasagne, and fish & chips. Homemade burgers will be a specialty, and there will be a menu for children.
Other changes include a cellar upgrade that will install state-of-the-art dispense equipment to ensure consistently perfect pints. With a shortage of cafés
in the immediate area, the pub will also have a new coffee machine and serve hot drinks throughout the day. Customers' four-legged friends have not been forgotten, either. The Major Oak will be dog-friendly and provide free treats and bowls of water. 
Kelly wants to make the Major Oak a "hub of the community". To that end she is planning a host of activities to bring residents together, ranging from music nights, quizzes and bingo to senior citizens' coffee mornings and mother and toddler get-togethers. The Major Oak will provide meeting space for local organisations and groups and hold fundraisers in aid of local charities nominated by regulars. 
Says Kelly: "I feel very lucky. The Major Oak is incredibly friendly – I've never been made to feel so welcome in my life. Many residents go into Arnold or Mapperley for a night out; they're desperate to have a great local on their doorstep and are really excited about the plans. The Major Oak is rundown now, but it'll be beautiful when it's finished."
Comments Mike Smith, Star Pubs & Bars' investment manager: "We're delighted to be joining forces with Marc and Garry to keep the Major Oak thriving for the long term. They're highly experienced hospitality operators and are passionate about creating a superb local that is a real asset to the community. The investment will give the Major Oak broad appeal and plenty of reasons to visit."