Pubs Next Door Opens Second Star Site Following Major Revamp
01/11/2022
Investments , News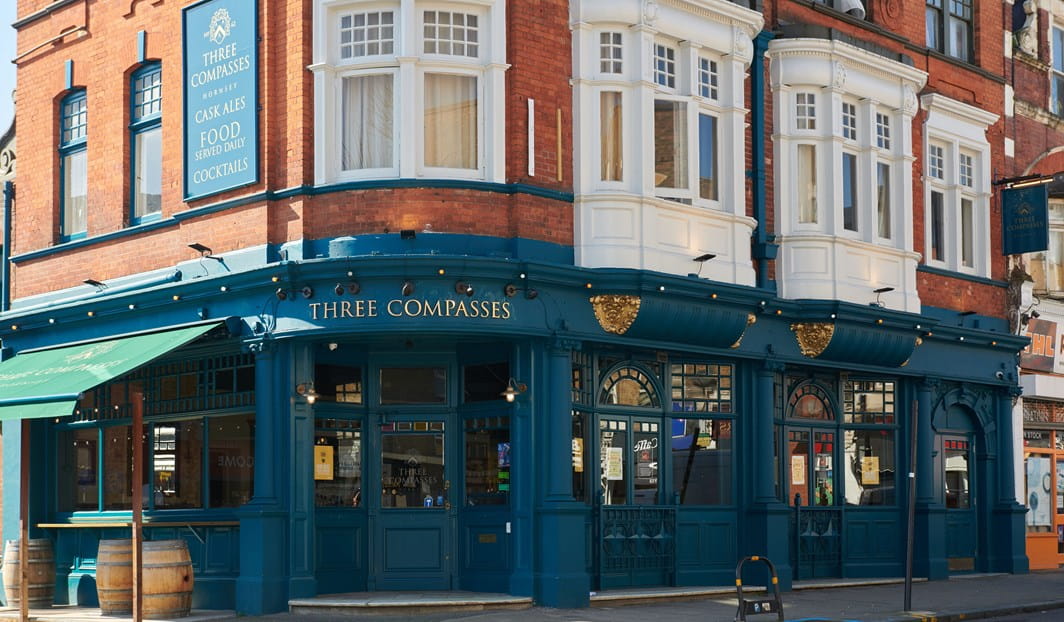 Pubs Next Door has taken its second pub with Star Pubs & Bars, which opens this week following a £230,000 joint refurbishment. The project has transformed The Three Compasses on Hornsey's High Street into a premium local, offering great quality food and drink as a well as activities ranging from jazz nights to mother and baby quizzes. 
The makeover has restored and redecorated the outside of the iconic pub - which dates back to 1896 and was designed by famous architect John Farrer - highlighting distinctive architectural features such as the rooftop lighthouse.
A stylish but traditional redesign has kept all of the pub's character inside whilst upgrading it throughout. Stained glass, an old wooden bar and marble surround fireplaces have been renovated and complemented with heritage colours and fabrics. The overhaul has created cosy corners with booth seating and Chesterfields, as well as a new raised dining area that can be booked for private functions. 
To boost the pub's reputation for good beer and ensure consistently perfect pints, a SmartDispense system has been installed in the cellar. The water-saving technology is also a key part of Pub Next Door's drive to turn The Three Compasses into an environmentally friendly business. Single use plastics are banned, and the pub will use ecological cleaning products, green electricity and, whenever possible, products in biodegradable packaging or reusable containers. 
The refurbishment of The Three Compasses is the second that Pubs Next Door and Star Pubs & Bars have undertaken together in the last 12 months. In November 2021 the two companies invested in a combined £175,000 revamp of The Henley Arms at North Woolwich. 
Pubs Next Door now plans to build up a portfolio of five great quality community pubs across the North and East of London. Says Pubs Next Door Founder Aaron Wilson: "I'm in no rush to expand; the most important thing is to find the right sites. A prime location with good passing footfall and the potential for all day trade are critical. I'm only looking at leased pubs – freeholds are out of the question as they're so expensive in London. Ideally all the pubs will be with Star as we've built up a great relationship. The leased model has worked well for me over the last decade. The rent cuts during the pandemic were fantastic and showed it's a real partnership. Regular business meetings are also a benefit, challenging my thinking with a fresh perspective and industry insight."
Adds Star Pubs & Bars' area manager Michael Lee: "Aaron is a superb operator. He is delivering a great offer and service at The Henley Arms following our joint investment there last year. We're delighted to have worked with him to make The Three Compasses an exceptional pub for the local community and maximise its income streams."