Publicans of Iconic Edinburgh Music Pub Receive Prestigous Award to Mark Their Anniversary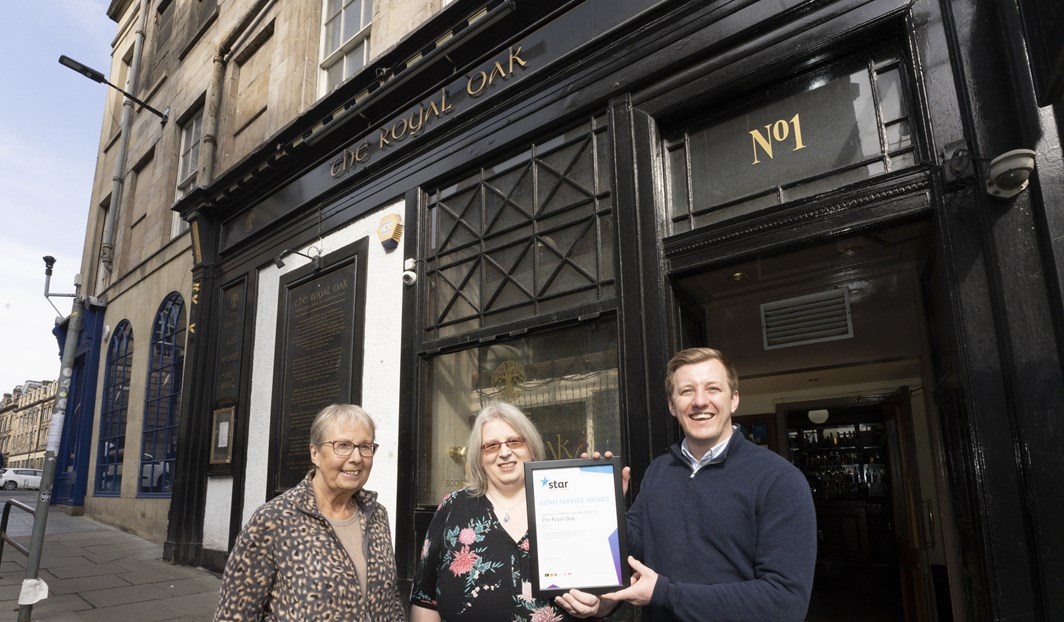 The licensees of an internationally renowned Edinburgh music pub have received a prestigious award to mark their 20th anniversary at the helm.
The award from the pub's owners, Star Pubs & Bars, recognises the contribution that mother-and-daughter team May and Heather McKenzie have made to Edinburgh's folk music scene since taking on The Royal Oak* on Infirmary Street two decades ago.
A former regular, Livingstone born-and-bred Heather – who is a sound engineer –
took over the famous music pub out of concern for its future when the previous licensees retired. With no experience in pubs, Heather enlisted her mum May, who had a skincare company, to help with the business side. 
Says Heather, who has just extended her lease on the pub: "I'm passionate about folk and traditional music and couldn't bear The Royal Oak to fall by the wayside when the previous licensees, sisters Sandra and Dorothy, retired. Mum was looking for a new challenge, so we decided to give running The Royal Oak a go. I never thought we'd be here so long, but I can't imagine life without The Royal Oak now – it's the kind of place you never want to leave. I love music and meeting different people and hearing their stories. It's a privilege to be the licensee."
Under the McKenzies' stewardship, The Royal Oak's reputation for folk music has gone from strength to strength. Resident performers provide live music seven nights a week with every genre of folk, from country to blues, represented. The Wee Folk Club – which has been based at the pub since it was started by a regular musician over 25 years ago and won the Folk Club of the Year Award at the 2008 Scot Trad Music Awards – hosts a concert in the Lounge Bar every Sunday evening. In addition to showcasing some of the best folk acts in Scotland, it has hosted performers from all over the world and welcomes new talent and established favourites. The pub's informal atmosphere gives amateur musicians the opportunity to join in, helping to nurture up-and-coming Scottish talent.
Whilst other trends have come and gone in the city's bars, The Royal Oak has retained its traditional feel and ethos. As well as music, it is known for a great pint of Guinness, a fantastic selection of whiskies, good conversation and a friendly atmosphere, where those on their own are made to feel welcome and everyone talks to each other. There is no stage – musicians play in a corner of the pub – and the décor is unchanged from the 1980s. Adds Heather: "We liked the character of the pub just as it was when we started out, and customers love it, too. Tourists often remark that it's fantastic to find 'a real pub'. We'd have a lot of unhappy regulars if we modernised The Royal Oak." 
Despite the lack of changes, The Royal Oak has stood the test of time. Folk music enthusiasts travel from all over the UK and as far as Australia and America to visit, and it is gaining an increasing number of younger customers attracted by the pub's folk music and unique charm. 
Adds Michael Barclay, Star Pubs & Bars' area manager for Edinburgh: "The Royal Oak is a real Edinburgh institution and a testimony to Heather and May's hard work and commitment. It's not just an amazing music venue, it's also a wonderful pub where you're always assured of a warm welcome and some good banter. We wish Heather and May many more happy years behind the bar."
*During the 1960s The Royal Oak was run by Heart of Midlothian footballer Alan Anderson, and was called 'The Pivot'. The pub features in 'Set in Darkness' by Ian Rankin.