Peasedown St John Publicans Are Awarded Prestigious Long Service Award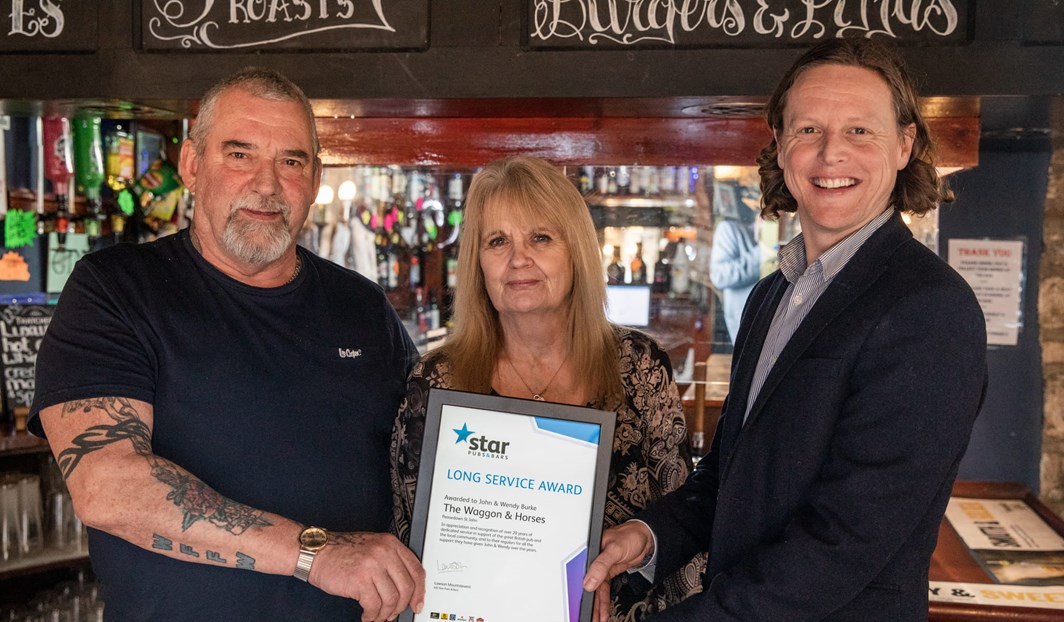 Peasedown St John publicans, John & Wendy Burke have been awarded a prestigious long service award in celebration of over20 years at the village's The Waggon & Horses pub. The award by the pub's owners Star Pubs & Bars, recognises the contribution John & Wendy have made to the village during their 20 years at the helm and pays tribute to the pub's regulars
for their years of support.


Since taking on the pub lease, John and Wendy have totally transformed the pub – its look, offer and atmosphere. They turned around what was a decrepit, rough pub with no lightbulbs into a family friendly local at the heart of the community. They set up skittles and darts teams and created a function room with its own bar, ideal for parties and medium sized wedding receptions and established a reputation as 'the' place to watch rugby locally. Villagers have provided invaluable help along the way including laying new flooring, decorating and lending a hand building the skittles alley to keep the costs down.


The couple also introduced food at the pub. They serve pub favourites like lasagne and burgers as well as two roasts a week, breakfasts and takeaway burgers and pizzas. On customers' suggestion they introduced a Wednesday evening roast dinner which has gone down a storm.


The home of The Waggoneers MCC motorcycle club. Together with The Waggoneers and villagers, they have raised over £30,000 for The Air Ambulance and Bath Royal United Hospital, which includes hosting a spring fair in The Waggon & Horses car park with all-day live music, stalls and a barbecue. During Covid they delivered food to the elderly and those shielding.


The Waggon & Horses was John and Wendy's first pub. Both had previously worked at a garden centre – Wendy in accounts and John helping erect sheds and conservatories. Just prior to taking on The Waggon & Horses, they had had a four-month stint as temporary managers at the Bear Hotel in Chippenham where they honed their skills. At one stage they had four or five pubs, but this became too much and so they decided to get rid of the others and focus on the one dear to their hearts.


Says John: "I decided to give running a pub a go as I had helped behind the bar at our local football club and found that I really enjoyed chatting to people. Wendy on the other hand was pretty shy when we started out but has since come out of herself.


"The last few years have been tough, but we've no plans to retire anytime soon as we love our customers and being at the heart of the community. The villagers are fantastic and welcomed us with open arms. We want to thank them for all their support over the years."



John and Wendy were presented with their award by Star Pubs & Bars Business Development Manager, Gavin Perkins.


Gavin says "John and Wendy are fantastic licensees and much loved locally. They have done and continue to do a great job at The Waggon & Horses and are much loved by the community.