Midlands Based Multiple Operator and Leading Hospitality Consultants Take on First Star Lease
11/07/2022
Investments , News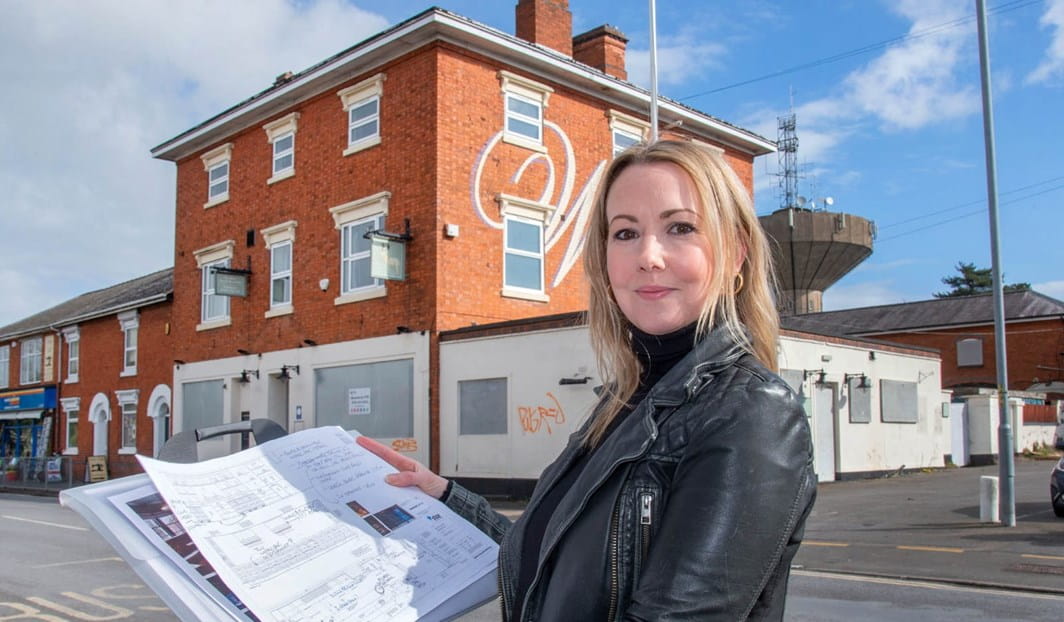 Shaker Group, established in 2001 and run by husband-and-wife team Adam and Theresa Freeth has taken on its first Star Pubs & Bars lease, The White Hart in Redditch, together with their group operations manager, Victoria Coliandris.  The pub, which has been closed since the start of the year, will reopen in early September as a premium family and dog friendly local following a £400,000 plus joint refurbishment with Star Pubs & Bars.
The Hart is the first of five sites the group intends to establish in the next three years, together with members of their team who are ready and keen to run their own pubs. The group already owns Gas Street Social in The Mailbox in Birmingham & The Orangery, a restaurant & hotel in Redditch.  It also has the Shaker Consultancy and Shaker Bar School a training and bar consultancy firm working across projects in the UK, Europe, Africa.  Recent projects include training beverage staff for Marriott across Europe and for 19 different bars on P&O Cruises including training their 70+ team on their latest ship, The Iona. 
Adam says: "We are building our business model around our people.  Our people are recruited because of their potential and ambition not just experience.  We will grow our estate as and when members of our team are ready to take on sites.  We've trained tens of thousands of people over the years and most share a desire to be their own boss.  However, many remain 'intrapreneurial' working within businesses and receive just a wage. They don't get the upside from the risk of putting their own money into a business.  With our background of running our own restaurant, pubs and hotels together with our consultancy expertise we can help ambitious team members to progress to the next level.  
"We've had our eye on the White Hart for 10 years.  It's a fantastic pub in a great location with the potential for multiple income streams.  There's nothing like it within a 100-mile radius.  If it works well we would hope to look at other Star pubs in the future for our expansion plans.  Coincidentally, the very first pub I worked in was my mother's pub in Redditch – The Duck Inn. It is now a Star site." 
The investment will see the Former White Hart Inn rebranded to The Hart at Headless Cross and taken to a new level with a focus on homemade pub classics.  Produce will be sourced from local suppliers wherever possible, including coffee from a local Worcestershire roastery, homemade deli items and freshly baked bread made on the premises.
Drinks wise, the pub will serve an interesting selection of local draught beers as well as premium lagers and spirits.  
The large courtyard will be used for alfresco dining and open most of the year and will feature covered seating booths, a heated stretch tent, hurricane lamps, festoon lighting and lots and lots of greenery.  It will double the capacity and feel like an oasis in the heart of the pub.
Inside the layout is being completely reconfigured for the first time in over 20 years with the current bar being removed and a new bar built on the left-hand side to improve the pub's internal flow and space.
Later in the year an upstairs bookable cocktail bar for 40 will open in time for Christmas. And in 2023 a new bookable function space will be launched at the back of the pub to host private functions with capacity for up to 200 guests.  
Adam adds: "I started my career in this town, collecting glasses in the local boozers and making cocktails in the late 90s when I was in sixth form.  I loved it so much that I decided to abandon plans to become a PTI in the Marines after my Degree and peruse a love affair with hospitality. Headless Cross in Redditch is a lovely area, but it has been missing a proper pub of this calibre.  It means people will no longer have to travel to Birmingham/Worcester or Stratford for a top-quality night out as they'll have a multi-purpose venue on their doorstep."
Phil Mardon, Star Pubs & Bars' Area Manager says: "The changes to the White Hart are going to be massive and will result in a fantastic pub for the local community. It's great to have The Shaker Group on board and I look forward to building a long-term relationship, helping them grow their pub business."