Make It a Double Investment to Replace Long Term Closed Beeston Local With Two Pubs
05/04/2023
Refurbishment , News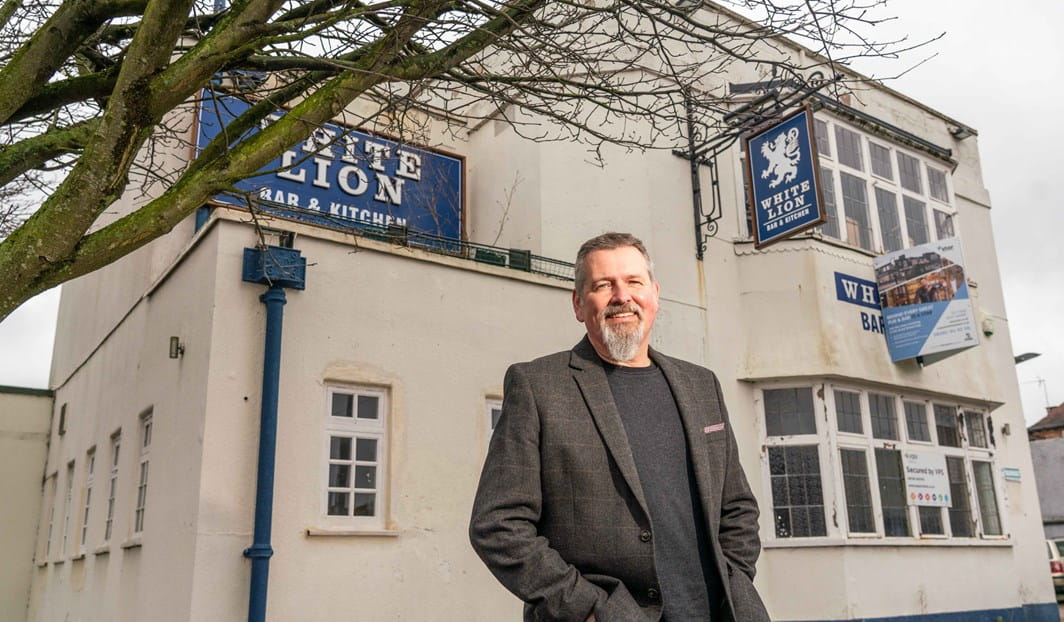 Beeston is set to get two new pubs, thanks to a £625,000 redevelopment of The White Lion on Middle Street, which has been closed for nearly three years.
The investment is being undertaken by Heineken-owned Star Pubs & Bars and the site's new licensees, the Hucknall-based Lincoln Green Brewing Company. The project will divide the building to create two new pubs: The White Lion –
a top quality traditional cask ale house – and Blackshale Bar & Kitchen, a contemporary bar specialising in craft ales and modern English cuisine. Great beer will take centre stage at both pubs, which will be the only ones in Beeston to stock Lincoln Green products. With a shortage of function space in Beeston, the revamped venue will have a first floor function room that can be hired for private events.  
Work starts on 11th April. The new pubs are scheduled to open in late July, creating 20 new jobs. 
The project is the brainchild of Anthony Hughes, founder of Lincoln Green Brewery, who came up with the idea of making two pubs out of one in a bid to revitalise The White Lion site. 
The overhaul will transform the exterior of the tired building, enchancing the town centre. Each pub will have its own entrance, signage and distinctive look. In keeping with their names, the outside of The White Lion will be painted white, whilst Blackshale will be dark green. Blackshale will also benefit from a stunning 100-seater all-weather garden decked out with heating and covers plus festoon lighting, colourful furniture and a striking mural. 
The inside of The White Lion will have a traditional décor and a high quality finish incorporating wood floors, leather-covered Chesterfield chairs and a fire. Brewing memorabilia and pictures of Beeston through the ages will adorn the walls. The bar will have eight hand pulls serving regularly changing and seasonal cask ales. Tasting notes, 'try before you buy' and real ale events will further add to the tap room experience. A selection of carefully chosen wines, vintage whiskies and gins will complement the beers. On the food front, the pub will offer charcuterie platters and pub tapas. 
By contrast, Blackshale's interior will be modern and stylish, with exposed brickwork, vibrant colours and designer-look furniture and fittings. A haven for craft beer, its well-stocked bar will have 14 draft taps offering a rotating range of eclectic craft beers, many locally brewed in small batches. A new kitchen and spacious dining area will enable freshly prepared food to be a major focus, too. The menu will cater for all occasions, from light lunches to celebratory dinners and will feature pub classics as well as à la carte specials. Ingredients will be locally sourced wherever possible, and there will be a wide choice of gluten-free and vegan options. In a novel twist, dishes will come with craft beer and wine pairing suggestions. 
Says Anthony Hughes: "It's been sad to see such a prominent pub closed for so long. We want to bring it back to life and make it an asset to Beeston. The town has a thriving pub scene. Our aim is to add to it and bring something different to Beeston."
Comments Star Pubs & Bars' Investment Manager Mike Smith: "We're delighted to be investing in the centre of Beeston and building on the investment the town has seen in recent years. Lincoln Green Brewing Company is well known in Nottingham for its superb pubs and excellent beer. It's fantastic that they're bringing both to Beeston. The regeneration of The White Lion has been disrupted by the pandemic, but Lincoln Green's exciting plans will be well worth the wait."