Major Revamp of the Centurion in Waterlooville to Start Next Week
04/11/2022
Refurbishment , News , Investments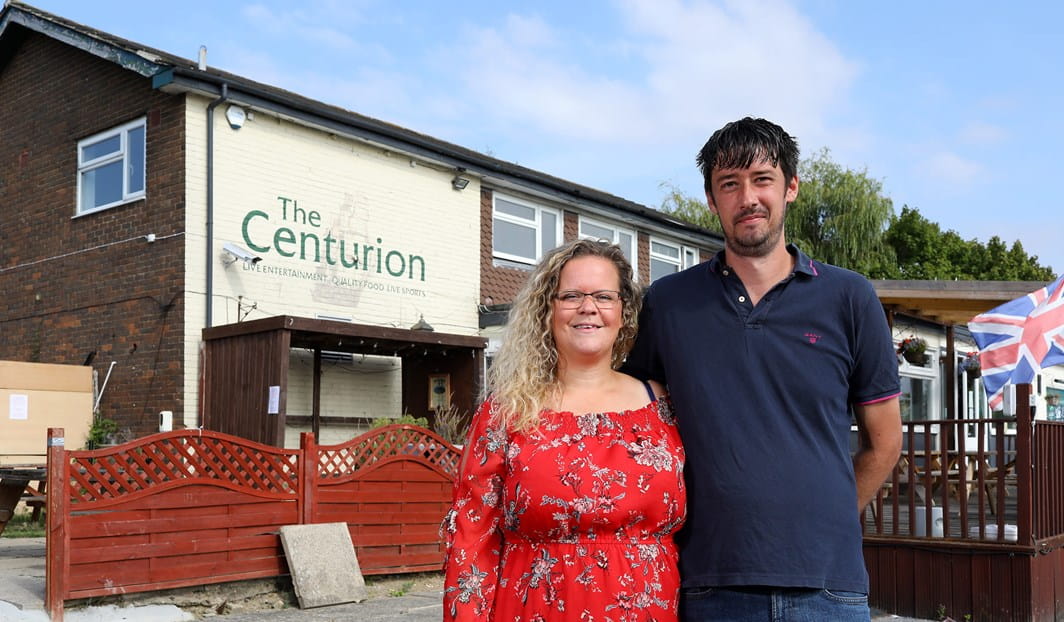 Work starts on 3rd October on a major £382,000 revamp of The Centurion in Waterlooville to create a great quality community local. 15 new jobs are being created on the back of the upgrade which will see food introduced. The pub will close at end of service on Saturday 1st October and will reopen 10th November in time for the World Cup.
The investment is being undertaken by HEINEKEN-owned Star Pubs & Bars1 and will see husband and wife team Richard and Kirsty Mullet take on the pub.  The couple grew up in nearby Paulsgrove.  Both have extensive hospitality experience in pubs, clubs and hotels.  Most recently Richard worked as a chef at the Marriott in Porchester.
Outside the tired looking pub will be given a complete makeover repainted in shades of blue with new signage, lighting and planting.  Two areas for alfresco eating and dining - one adult only and one a family friendly space – are being created. 
Inside The Centurion is being refurbished throughout to give it a brighter, smarter more contemporary look and feel.   It will have a traditional bar, a dining area and a sports zone kitted out with pool, darts and screens showing Sky and BT Sport.   
A new kitchen is being installed to enable the pub to serve a reasonably priced menu of traditional pub favourites.  There will also be a special menu for children. Richard and Kirsty will offer a wide selection of premium wines, spirits, and beers as well as cask and craft ales and Heineken 0.0.  A new coffee machine is being installed, enabling The Centurion to serve barista style coffee throughout the day. 
As part of the upgrade the latest dispense technology which improves the quality and consistency of draft beer and cider is being installed. The Smart Dispense System's unique cooling technology and line insulation from keg to tap is 20% more energy efficient than standard systems, keeping cider and beer colder.
Richard and Kirsty are keen for The Centurion to continue to be a hub of the community and will be hosting lots of activities and events including quizzes and fun days. They also want to  open up the pub as meeting space for organisations and groups, and plan to hold charity fundraisers for good causes nominated by regulars. 
Says Richard: "Kirsty and I will be moving to The Centurion with our children and are very much looking forward to getting to know local residents and becoming part of the community.  
"We used to visit The Centurion for the entertainment and have friends nearby and so leapt at the opportunity to take it on.  It is a real local in a great location and has given us the opportunity to run our own pub, which has been a long-term dream.  We want the Centurion to be more family focused, offering something for everyone. I can't wait to open the doors and show people their new-look pub."
Adds Star Pubs & Bars' area manager Steven McInerney: "We are delighted that Richard and Kirsty are taking on The Centurion.  They know the area well and are passionate about creating a hub of the community.  They will be building on the hard work of the temporary managers who have turned the pub around in recent months and whom I would like to thank.  
"The investment will improve facilities for residents, providing the type of quality experience on their doorstep that previously they would have had to travel for.  It will also benefit residents of the 300 properties being built in the next year or so."
The refurbishment at The Centurion is part of a £42m investment that Star Pubs & Bars is making in its pubs in 2022.