Major Refurbishment to Create Great Community Pub in North Woolwich
12/12/2021
Investments , News , Refurbishment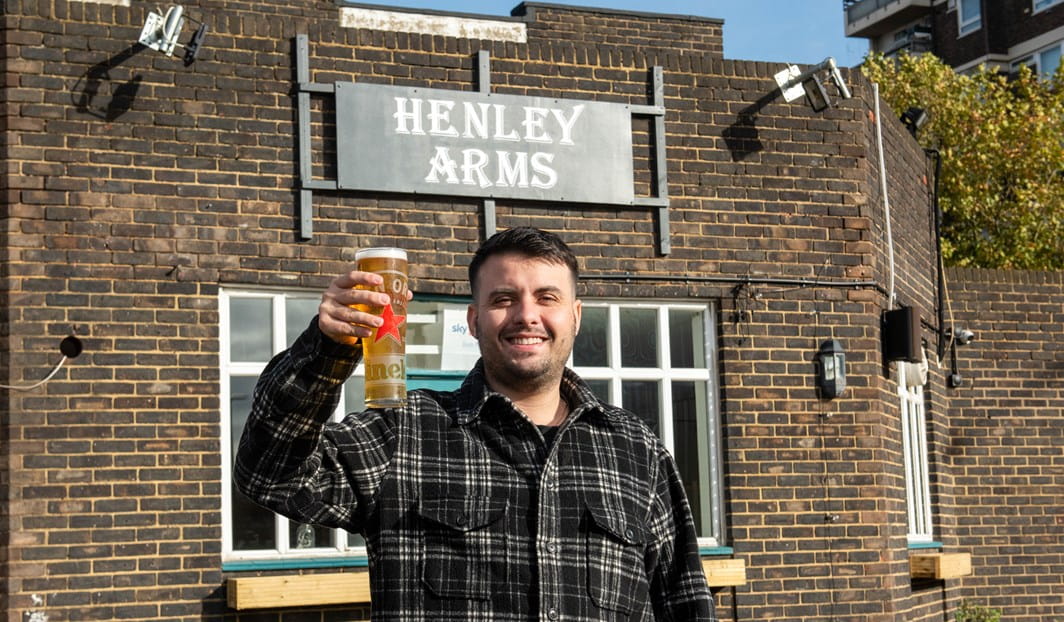 A North Woolwich pub is to close for a major refurbishment that will transform it into the area's only family-friendly great quality local.
The £175,000 investment at The Henley Arms on Albert Road is being undertaken by Heineken-owned Star Pubs & Bars and new licensee East London born-and-bred Aaron Wilson. It will introduce food, overhaul the games area and develop a stunning outdoor space.
The Henley Arms will close from 12th November and reopen in mid-December, creating six new jobs.
The work will renovate the pub's exterior with new signage, lighting and cladding, enhancing the neighbourhood. A year-round 108-seater alfresco eating and drinking area will also be created, complete with a covered heated pergola accommodating 36 people, plus new furniture, planting and festoon lighting.
The internal revamp will be equally dramatic. It will upgrade The Henley Arms throughout, making it more contemporary and comfortable. Memorabilia commemorating the pub's long association with the Tate & Lyle factory in Silvertown will adorn the walls. A new kitchen will enable Aaron to put The Henley Arms on the map as the only pub serving food locally. The menu will focus on traditional pub classics, such as fish and chips and burgers, and will include children's options. Sunday lunches will be a specialty.
With a shortage of coffee shops near by, Aaron is putting in a coffee machine and will serve hot drinks throughout the day. An extended range of beers, wines and spirits, as well as a selection of cocktails, will complement the new menu.
Sports enthusiasts have not been forgotten, either. The makeover will open up the pub into one big room with a dedicated sports zone. This will be kitted out with big screens showing BT and Sky Sports and a new darts throw and pool table.
Aaron says he wants The Henley Arms to be a "hub of the community and an asset to North Woolwich". To that end, he is starting up a host of activities to bring residents together. Quiz nights, live entertainment, karaoke and family fun days are all on the cards. In addition, Aaron will offer up the pub as a meeting space for local organisations and good causes.
Aaron took over The Henley Arms in April this year in preparation for the refurbishment after the pub had been closed for 12 months following a fire in 2020. Says Aaron: "Residents were very concerned for the pub's future and worried the site might be redeveloped. They have been crying out for a good local that caters for all, welcomes families and serves food. The pub needs investment and TLC, and we'll be giving it lots of both. The plans are amazing; The Henley Arms will be unrecognisable and like a totally different pub. I can't wait to open the doors. Last Christmas was difficult for so many people. I hope having a new look local will help make this Christmas extra special."
Adds Star Pubs & Bars' area manager Michael Lee: "Aaron is an experienced licensee with a fantastic reputation. We're delighted to be investing with him to give The Henley Arms a new lease of life. There'll be something for everyone - whether people are after a family lunch, an afternoon coffee or a great night out. We'll be working flat out to finish the job and reopen well in time for Christmas.
"Heineken is a passionate supporter of the Great British pub and is investing £38m in pubs like The Henley Arms during 2021 to ensure they deliver excellent quality, attract customers and thrive at the heart of their communities for years to come."
The Henley Arms is named after William Thomas Henley, a pioneer in the manufacture of telegraph cables who had a factory in North Woolwich. The original pub is known to have been in existence in the 1860s. The pub was rebuilt after World War II. Of the 26 pubs once found in Silvertown, West Silvertown and North Woolwich, just three remain.