Lowton Licensees Receive Prestigious Award for Their Service at Pub and Industry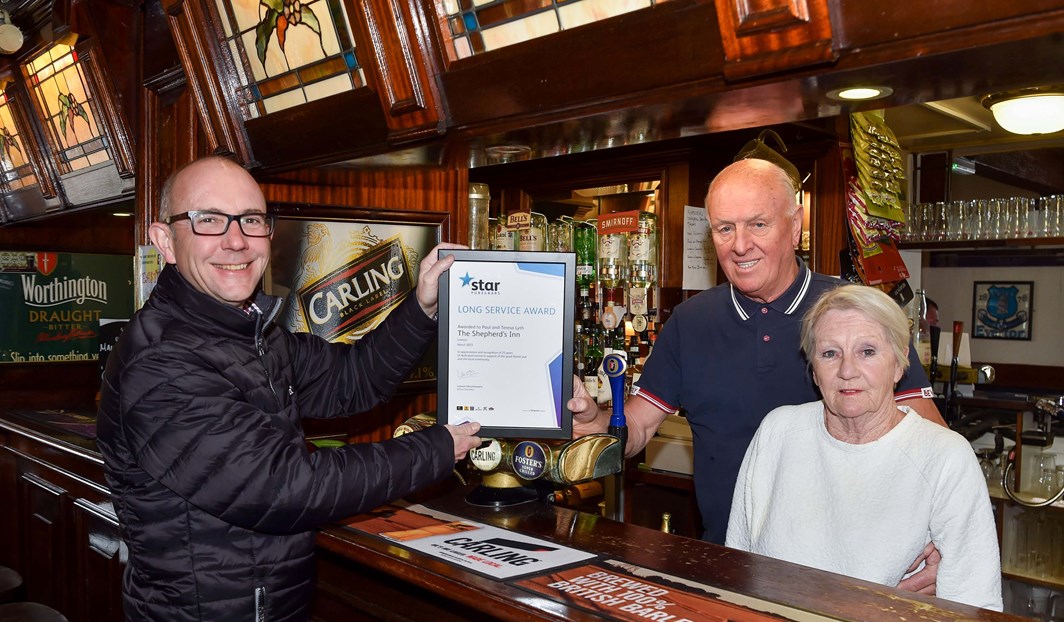 Paul and Teresa Lyth, publicans of The Shepherd's Inn in Lowton have been honoured with a prestigious long service award by the pub's owners Star Pubs & Bars.   It was given to them by Star Pubs & Bars Area Manager, David O'Brien in recognition of the contribution they have made to the community during their 25 years at the helm and 40+ years in the pub industry. 
When Paul and Teresa took on The Shepherd's Inn it was an unloved local which they 
transformed into a hub of the community employing four members of staff.  Today, in 
addition to showing live sports, the traditional pub hosts weekly karaoke, live acoustic music 
and has an acoustic open mic night four times a year.  This month they will also be restarting 
their monthly pub quiz, adding to the darts and dominoes that they 
Keen to inject life into the pub, the couple set about improving the décor and parking and 
turned four derelict bedrooms into a function room for 60 which is regularly used by locals for 
events including christenings, parties, meetings, and wakes.    
During their 25 years at The Shepherd's Inn Paul and Teresa have helped raise over 
£25,000 for local and national charities and in particular Wigan & Leigh Hospice, which is 
dear to their and many of their regulars' hearts.
They have also created over 50 local jobs, giving the youngsters their first work experience glass collecting and washing up.
Since Paul and Teresa took on The Shepherd's Inn, it has morphed from a semi-rural pub to a suburban pub with the country on its doorstep.  Originally an old coaching house for trams, it was previously known as The Terminal as the tram coaches would turn around on the site. 
Says Paul: "Prior to taking on the Shepherd's Inn we were running country pubs.  We wanted to be a bit nearer town and the area and pub both ticked the boxes for us as we could see its potential. 
"We have loved running The Shepherd's Inn and becoming a central part of the community.  Even though I am 71, I have no intention of retiring any time soon as I don't know what I'd do if I wasn't behind the bar.  I'd get bored!
"We'd both like to thank our regulars for their support over the years.  Many really live up to the name of regulars, as they come in a few times a week come rain or shine. Around 30 customers have been coming here as long as we've been serving pints. So I think it is an award for our regulars too!"
Says David O'Brien, Star Pubs & Bars area "Paul and Teresa are archetypal publicans with high standards and a real love of their community.  It is great news for those in the area that they have no plans to retire, especially their many regulars who have shared their journey.  Cheers Paul and Teresa! And here's to many more happy years behind the bar!"