Local Residents Begin Revamp of Their Third Dartford Pub
10/08/2020
Investments , News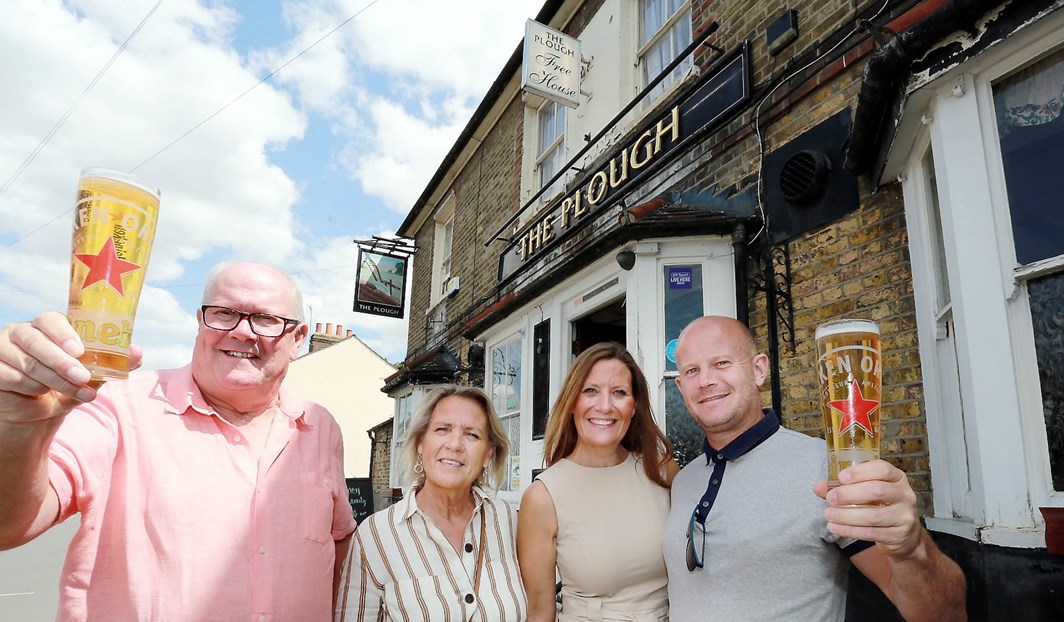 A Dartford family who have revitalised two of the town's pubs, are now taking on a third and giving it a major revamp.
David and Dilys Clack and their daughter and son-in-law Nicola and Chris Tume are investing in a £260,000 refurbishment of The Plough at Wilmington with Heineken-owned Star Pubs & Bars. The project will upgrade the tired pub into a great quality community local and introduce good home cooked food. Work is scheduled to start on 17th August and the pub will reopen in early October creating ten new jobs.
The refurbishment was originally due to begin in April but was postponed because of the lockdown. Comments David: "A lot of people were concerned we'd pull out. But we've got a really good feeling about The Plough and we don't want to let the village down, so we're cracking on. After all the delay, we can't wait to get going!"
The Clacks have run pubs around Dartford for 25 years. They are currently the licensees of The Dart on Chastilian Road and top rated TripAdvisor pub, the Chequers in Darenth, which they operate with Nicola. Says Nicola, who will be The Plough's new licensee: "We weren't looking for another pub but regulars from The Plough asked us if we'd consider taking it on. We fell in love with it as soon as we walked in. It's a lovely old pub in a friendly village with a loyal following of regulars. However, to thrive for the long term it needs investment to broaden its appeal. The plans are just what's required and will take The Plough to the next level."
The development will restore the outside of the building to its former glory and add new signs and lighting. The garden will become a stunning space for alfresco eating and drinking with new planting, furniture and festoon lighting.
The inside of The Plough will be sympathetically refurbished throughout in keeping with its traditional architecture and made more comfortable and welcoming. All the charm of the pub, such as the brasses, beams, cosy snug and old wooden bar will be kept and enhanced, and the fireplace brought back into use.
To cater for those wanting to drink and socialise, the pub will have a spacious bar area complete with Sky Sports and darts plus an extended drinks range including four cask ales and a wide selection of premium wines and spirits. A new dining area with seating for 40 will enable The Plough to offer more food. The menu will use locally sourced ingredients and focus on freshly prepared pub favourites like pies and steaks. Sunday lunches will be a specialty.
Adds Nicola: "I've passed The Plough hundreds of times but never dreamt it would be ours one day. We want to build on its reputation as a hub of the community and offer something for everyone and all occasions – whether it's watching the sport, enjoying a family meal or having a ladies night out. My sons will be helping out too, so it will be a real family affair. We hope having a new look local will bring some much needed cheer to people in these challenging times."
Comments Star Pubs & Bars' operations director for Kent, Dugald Macer: "We're delighted to be joining forces with such well respected local licensees to give The Plough a new lease of life. Wilmington is a lovely village and the refurbishment will give it a great pub to match."
The pub will be closed from 17th August when refurbishment work begins.