Investment Case study The Waterman's Arms, Isle of Dogs, London
09/09/2021
Case Studies , Investments , News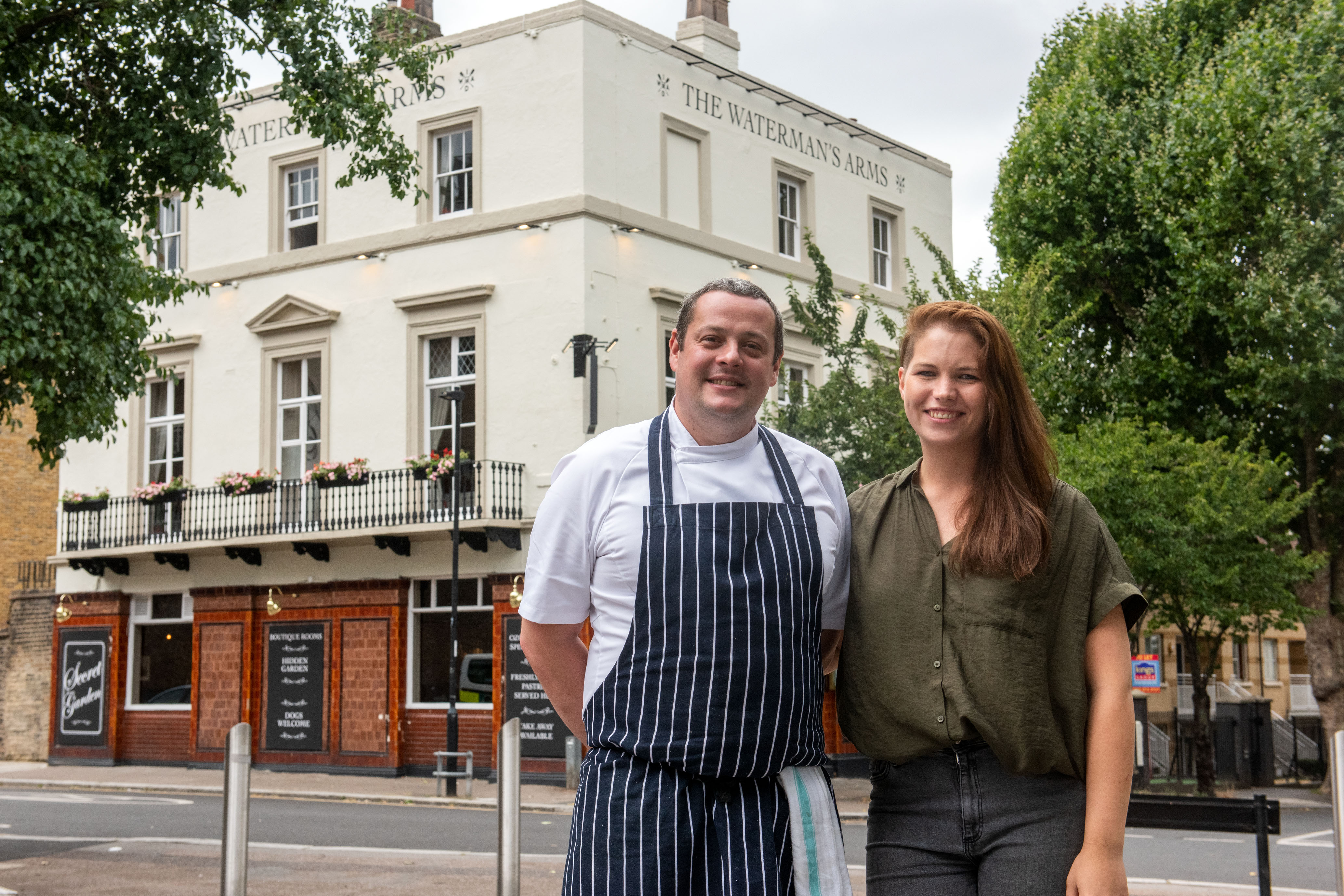 The final stage of Star Pubs & Bars £461,000 investment in a £587,000 refurbishment of the landmark The Waterman's Arms on the Isle of Dogs was completed this month with the opening of its seven boutique-style ensuite bedrooms. 
The pub (formerly known as The Great Eastern)* opened in August 2020 following a joint investment with new operators Laura Lythall and Sam Hawkes, who also have The Ship Inn in Canary Wharf.  Previously a tired drinkers pub with a hostel, The Waterman's Arms has been transformed into a top-quality neighbourhood bar offering standout food and drink. 
The interior has been opened up to provide seating for 70 and the bar extended through the pub's two rooms with a raised snug created at the back of the pub.  Full length bi-folding doors give the pub a light and airy feel. Outside, the new courtyard garden has a fixed seating area, festoon lighting and seating for 30. 
The upgrade of the pub, together with the introduction of top-quality food and coffee and more premium drinks, has seen trade at The Waterman's Arms increase fivefold since the refurbishment in spite of the challenges of the pandemic.  The new boutique rooms will boost turnover further. 
Laura said: "It's our first anniversary this month and what a year!  We have only been able to open for five months.  And, due to the pandemic, we didn't initially have the benefit of Canary Wharf workers or tourists.  We did however build up a good community following, which is important to us as we are a neighbourhood pub.  Now we're fully open, we're getting event bookings and attracting Greenwich visitors. 
"There was a real need for a pub of this calibre on the Isle of Dogs.  Prior to the investment there had been some trepidation that the character might be stripped out.  But my business partner Sam and I are both local to the area so used bric-a-brac and prints to highlight the pub's history and character.  Feedback from residents has been fantastic since we opened." 
* Owned in the 1960s by writer and broadcaster Dan Farson, who originally named it The Waterman's Arms, it operated as an old-style music hall. In its heyday it was a magnet for well-known performers and was frequented by celebrities like Clint Eastwood, Judy Garland, Francis Bacon, Brian Epstein, and Shirley Bassey going on to become a popular film and television location, used as the backdrop for The Long Good Friday, The Professionals and Prospects.