Historic Kirkcaldy Pub Reopens After a Seven-Month Closure and £450,000 Revamp
12/10/2020
Investments , Refurbishment , News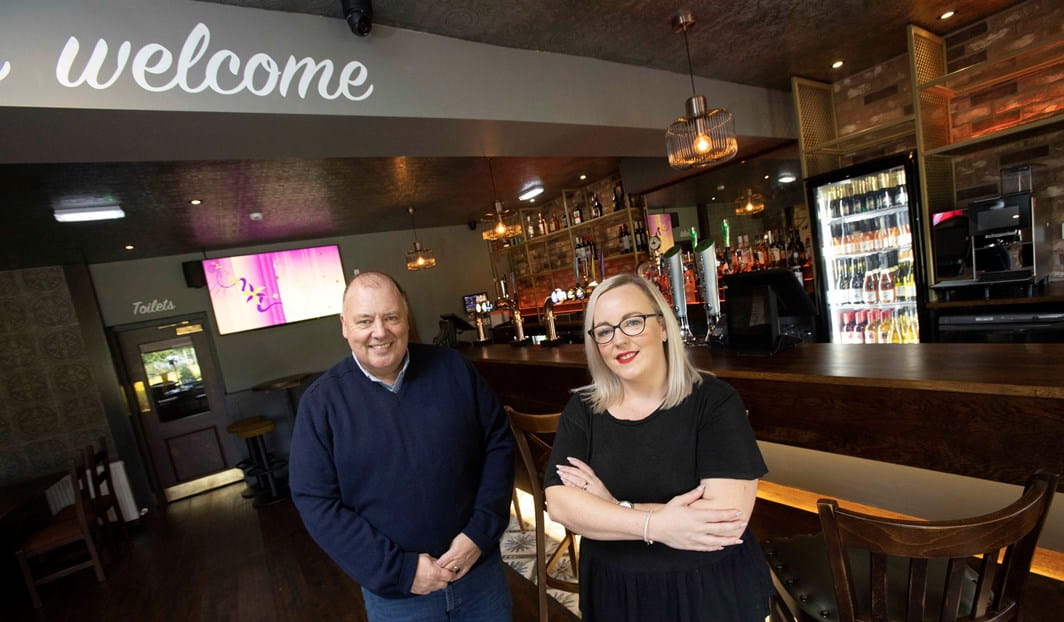 It's a double celebration for one of Kirkcaldy's oldest pubs, which is set to reopen for the first time in seven months and is showcasing a stunning £450,000 revamp.
Dating back to 1610, The Chapel Tavern on Chapel Road was due to open in late April following refurbishment by Heineken-owned Star Pubs & Bars. Instead, with work delayed for five months by lockdown, new licensees father and daughter team, Gavin Innes and Gillian Moffat, are opening the doors this week.
The investment has transformed The Chapel Tavern into a great quality family-friendly pub serving good affordable food. The work has retained all the character and charm of the 400-year old pub whilst upgrading it throughout and making it more comfortable and contemporary. Enlarged windows give a light, airy feel and a new log burner adds warmth. Three distinct areas – a bar with new screens showing BT and Sky Sports, a dining area and a cosy lounge with soft seating – enable the pub to cater for all occasions.
With social distancing now required, Gavin and Gillian are delighted by The Chapel Tavern's spaciousness. The project has opened up the inside of the pub enabling it to comfortably accommodate 119 and added alfresco eating and drinking areas with seats for a further 58 outside. As well as café style tables at the front, there is a new south-facing deck with pretty planting and lighting for evening use. The duo have also brought in a host of measures to keep people safe. Customers will be greeted at the door and shown to their tables, which will be sanitised between every use.
Other changes include new toilets, a new kitchen and universally accessible access.
Alongside The Chapel Tavern's new look, is a new menu of traditional pub favourites such as fish & chips and burgers with a selection of dishes for children. On the drinks front there is now a wide range of spirits and wines, premium lagers and beers and all-day coffee.
Gavin and Gillian, who come from Leven, ran a popular pub and a restaurant together in the past before Gavin left to travel the world with a career in oil and gas and Gillian went into the care sector.
Says Gavin: "We loved running a pub together and it has always been our dream to do it again one day. When we saw The Chapel Tavern, we jumped at the chance to take it on. It feels really welcoming and looks beautiful, with a perfect mix of the old and the new inside. We want The Chapel Tavern to be a focal point of local life with a fun atmosphere that caters for the whole community. The Chapel is the only pub in the Chapel area, so there's been lot of interest in the plans – those who've seen it are amazed at the difference.
"It's fantastic to be opening the doors even with the new restrictions and the whole team feels really positive. We've got a great new menu and choice of coffees and soft drinks for those wanting to sit inside, plus there's plenty of room outside for those wanting something alcoholic."
Adds Brian Davidson, Star Pubs & Bars operations director for Scotland: "The Chapel Tavern is a really individual pub with a wonderful sense of history. It has served the area for more than four centuries and we want to keep it thriving for future generations. There are lots more reasons to visit now and we hope people from across Kirkcaldy will enjoy it. Gavin and Gillian are highly experienced licensees and we're delighted to be working with them to give The Chapel Tavern a new lease of life."