Historic Enfield Pub Closes for £350,000 Refurbishment
01/12/2021
Investments , News , Refurbishment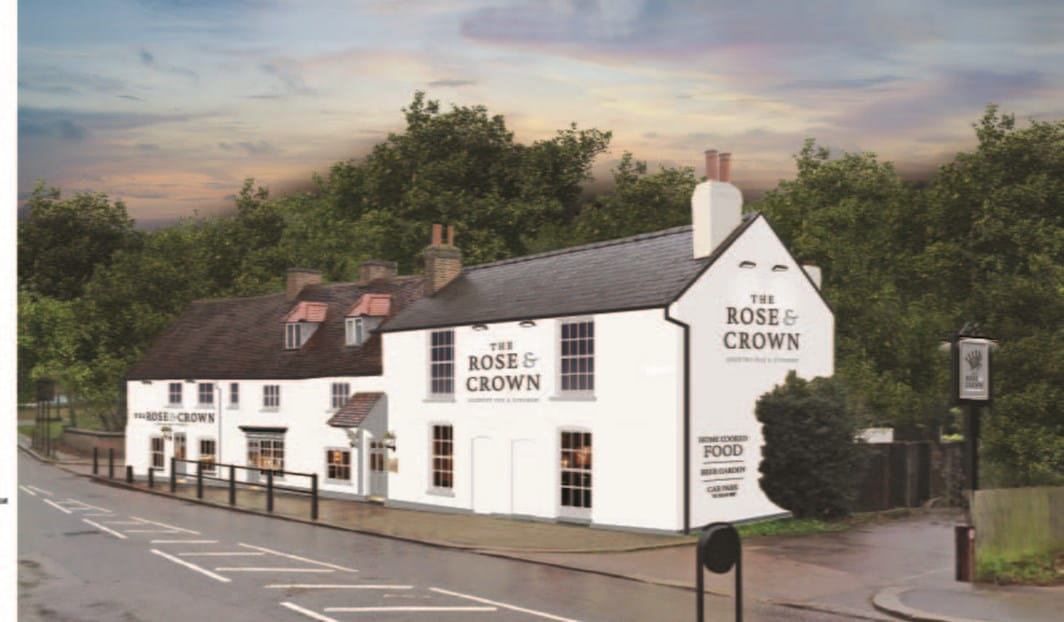 Work is starting on a £350,000 refurbishment of a historic Enfield pub that dates back to 1716 and is believed to have once been a hideout of highwayman Dick Turpin.
The investment at The Rose & Crown at Clay Hill is being undertaken by Heineken-owned Star Pubs & Bars and Redhouse Pubs Group. It will transform The Rose & Crown into a great quality family-friendly pub serving outstanding food.
The Rose & Crown – which is Clay Hill's only pub – is scheduled to open its doors again in early December, creating at least five new jobs. The reopening will mark the first anniversary of husband and wife team Allan and Stefanie Herrick as the pub's licensees. Enfield born-and-bred Allan – an experienced chef who has worked at Michelin-starred establishments such as Heston Blumenthal's Fat Duck – will head up the kitchen.
Says Allan: "I've known The Rose & Crown nearly all my life. My dad used to bring me here as a little boy when we walked the dog. I've worked around the UK, however my goal was always to return to Enfield and have a pub of my own here. When we heard about the refurbishment, we jumped at the chance to take The Rose & Crown on. It's perfect, and it's a dream come true to be running it. It's a lovely old pub, with Enfield on one side and beautiful countryside on the other, but it's tired. This investment is just what's needed. Stefanie and I aim to make The Rose & Crown a traditional pub that the whole community can enjoy, whether they want a drink with friends or a really good meal."
The external work will carefully renovate the Grade II listed pub, repainting the building and adding new lighting and signage to enhance Clay Hill. A stunning 80-seater alfresco terrace will be created, overlooking the adjoining woodland. It will boast covered heated space for 24 people, festoon lighting, new planting and new furniture. The Rose & Crown's old well will be a focal point. An outside board will record The Rose & Crown's history and its links with Dick Turpin. Turpin's grandparents, Robert and Mary Knott, are thought to have owned the pub until around 1752, and it is rumoured that Turpin would hide there after committing his crimes in the grounds of Trent Park. The pub is said by some to be haunted, and the Herricks are keen to hear from anyone who has further information about its past.
The internal revamp will sensitively upgrade the pub throughout, making it more welcoming and comfortable, whilst maintaining all its character. Original features such as fireplaces, old beams and flagstone floors will be restored, and the pub's cosy snug and many nooks will be retained. Pictures of The Rose & Crown in bygone days will adorn the walls.
A kitchen refit will enable Allan and Stefanie to develop The Rose & Crown's food. The menu will focus on pub classics like burgers and fish & chips as well as changing à la carte specials. Sunday roasts will be a specialty. All the dishes will be made from scratch using seasonal ingredients and top quality produce sourced by Allan. Fresh fish will come daily from Cornwall and fruit and veg from Covent Garden or nearby farms.
Stefanie and Allan want The Rose & Crown to be a hub of the community as well as a great place to eat and drink. The couple will offer meeting space to local charities and organisations, and the pub's two function areas will be bookable by residents for celebrations such as weddings and birthdays. The area's many walkers will be well catered for, too. The Herricks are installing a barista-quality coffee machine and will serve hot drinks and desserts throughout the day. Meanwhile, customers' four-legged friends will receive doggy treats and water.
Adds Allan: "Enfield residents supported us through the lockdowns and welcomed the refurbishment plans. We can't thank them enough. Last Christmas was tough for everyone. We hope that having a new-look pub will help make this Christmas extra special. The Rose & Crown has been here over 400 years; we want to do our part to keep it thriving for future generations."
Comments Star Pubs & Bars' investment manager Matt Cornwell: "We're delighted to be investing in The Rose & Crown to give it a new lease of life. Allan and Stefanie are incredibly talented and really passionate about the pub and the area. Under their stewardship The Rose & Crown will be a fantastic local pub for Enfield residents and a destination dining spot for those from further afield. We're working flat out to open the pub well before Christmas."