The Engine, Walbottle to Reopen in May Following Major Refurbishment
27/04/2021
Investments , Refurbishment , News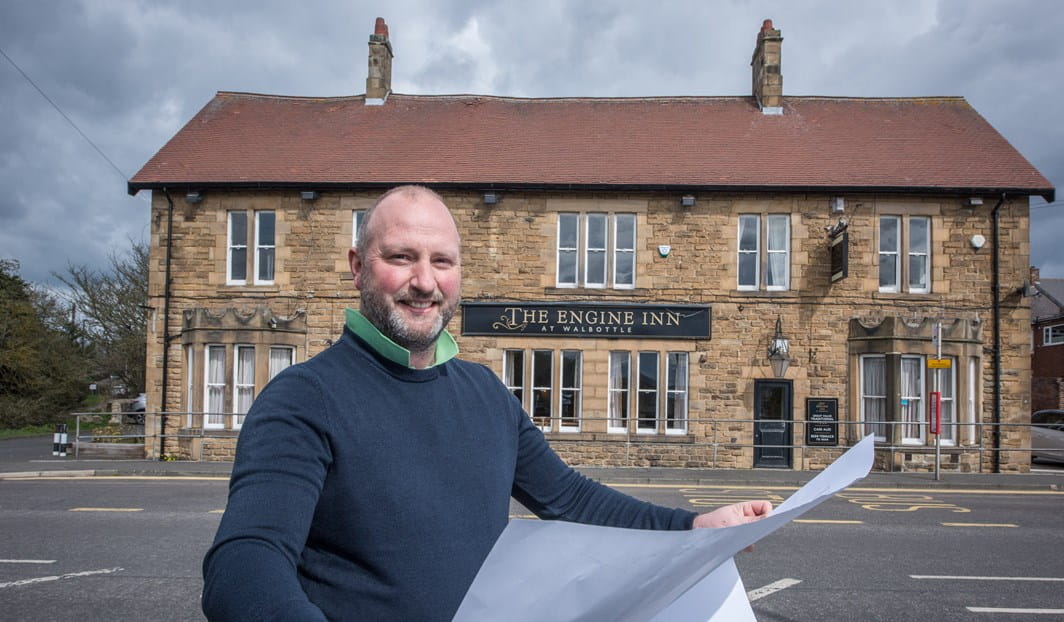 A major £240,000 refurbishment of The Engine, Walbottle by Drummond Pub Company1 and HEINEKEN owned Star Pubs & Bars & Bars2 starts today to restore the pub to its former glory.
The pub, which is currently closed due to the Covid lockdown, will open again in time for the late May bank holiday as a warm and welcoming family and dog friendly coaching inn offering stand-out, food, drink and service. Six new jobs are being created on the back of the investment adding to the four already created by Peter Drummond since he took on the pub lease in March 2020.
The refurbishment had originally been planned for April 2020 but was postponed due to Covid. The delay has given Peter a chance to get to know regulars and residents and to hear what they want from their local. Prior to taking on the lease of The Engine, Peter ran The Badger in Ponteland where he had been since 2001 and established a great reputation.
Inside there will be a bar and dining/lounge area and the look and feel will be traditional with an eclectic mix of upholstered seating and wooden chairs, as well as new flooring and wallpaper. Features such as panelling and fires will be overhauled whilst touches, such as metal and glass screens, planting and modern industrial lighting, will create a classic yet up-to-date look. Old images of coal mines and bric-a-brac will also feature, highlighting the pub's heritage.2
Outside the pub will be given a facelift with new lighting and signage, planters and trellising. New furniture is also being installed to provide alfresco eating and drinking for 80 on the terrace and in the garden.
Food will be a major draw for The Engine overseen by chef, Robert Urwin. He was conference and banqueting manager at Close House Hotel before becoming Chef/Proprietor at the Black Bull Inn in Fosterley, County Durham.
The menu will feature freshly cooked pub classics with a modern twist using local produce wherever possible. Typical dishes will include:
- Oven baked button and chestnut mushrooms in a garlic, white wine and cheddar and gruyere cheese sauce served with lightly toasted rosemary and garlic focaccia
- Teriyaki pork belly with baby pak choi, black radish and wasabi mayonnaise.
- cured meat sharing platter.
Sunday lunch will the highlight of the week including Yorkshire puddings cooked from scratch to order.
Drinks wise, there will be something for everyone including Moretti, Amstel, John Smiths, craft and cask, a nice range of gins and good quality wines and a broad selection of non-alcoholic beverages.
To ensure consistently excellent draught beer and cider, the cellar is to be overhauled and state-of-the-art dispense equipment installed.
Entertainment at The Engine when it reopens will include Sky and BT Sports and darts fixtures as well as a monthly quiz. Peter also wants to introduce traditional pub games like table skittles and shove penny and have acoustic music in the background on Sundays and outside in the summer.
Peter said: "I'm excited that the refurbishment is finally underway. It will make The Engine more comfortable and enable us to enhance the pub's food, broadening its appeal. I'm also delighted to have Robert on board as our chef. He's fantastic and very capable having previously run his own successful pub restaurant in Durham.
"Thank you to the Walbottle residents who have made me feel so welcome during these difficult times. My intention is for the pub to remain a local pub, whilst improving the quality of the surroundings and food and drink. I want it to be somewhere the community can be proud of."
Gary Corney regional operations director of Star Pubs & Bars said: "Peter has done an amazing job creating a popular pub at the heart of the community in spite of the challenges created by Covid. The changes being made will help him build on his success, taking The Engine to a whole new level. With houses being built nearby, there is a real need for a quality pub offering great drinks and affordable, top-quality pub food.
"Pete is a fantastic licensee and with his vision and our combined investment, The Engine I am sure will thrive and attract both locals and customers from further afield. I wish him and his team well."