Cheers! New Lease of life for Derbyshire Village's Only Pub
12/05/2021
Investments , News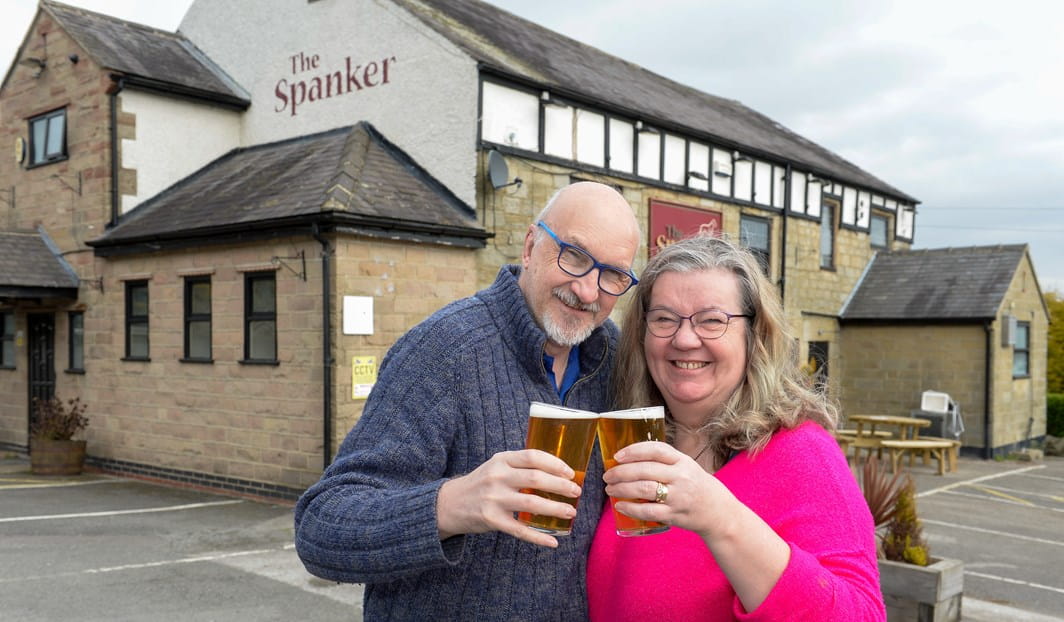 There's good news for one Derbyshire village with a major refurbishment of its only pub set to begin after twelve months of delays due to Covid.
The £210,000 investment in The Spanker at Nether Heage is being undertaken by Heineken-owned Star Pubs & Bars and licensees Cheryl and Paul Brew, who took over the pub during the first lockdown. It will upgrade The Spanker into a great quality village local, give it one of the best gardens in the area and revamp its skittle alley.
Work starts on 17th May and the pub is expected to reopen in late June.
The development will restore the outside of the building to its former glory and add new signs and lighting. A garden makeover will install a children's play area and a stunning space for alfresco eating and drinking with a pagoda, festoon lighting and timber furniture. With the Brews keen to put the pub on the map for skittles and start a team, the outdoor skittle alley will be renovated as well.
The inside of The Spanker will be sympathetically refurbished throughout in keeping with its traditional look and made more warm and welcoming. All the charm of the building, such as the cosy snug and fireplaces, will be kept and enhanced.
The project includes a kitchen refit so that Cheryl and Paul can serve more food. The menu will focus on homemade pub classics like steak pies, lasagne and fish and chips. Produce will be sourced from local suppliers wherever possible, and the couple also hope to take fruit and vegetables from village allotment holders in exchange for food and drink vouchers.
Since taking the helm at The Spanker, the Brews have supported the community through the pandemic and re-established the pub as a hub of local life. With no shop or other business in Nether Heage, the couple have launched takeaways and a mini- shop selling essentials such as tea, milk and bread. To keep morale up, they have helped the village mark key occasions with a family bubble Halloween party, outside Remembrance Day ceremony and socially distanced Christmas carols. Their hard work has attracted new customers – including women, families and senior citizens –and won them a British Institute of Innkeeping Heart of the Community award.
Cheryl and Paul have been in hospitality for more than 25 years. Says Cheryl: "The Spanker is a lovely old pub in a beautiful area, however it's tired and dated. We've had our eye on it for many years, but it was never available with the refurbishment it needed. We jumped at the chance to take it once we saw Star's plans. Covid has delayed the work, but it has been a brilliant opportunity to get to know the village, and we're more certain then ever that taking The Spanker was the right decision. Residents were desperate to have their pub back. They've been incredibly welcoming and supported everything we've done; we can't thank them enough. After such a brilliant four months, it was heart-breaking to have to close in November and be unable to celebrate Christmas because of the Covid restrictions. We can't wait to open the doors again."
Adds Helen Fingland, Star Pubs & Bars' operations director for Derbyshire: "The Brews are fantastic licensees, and we feel fortunate to be joining forces with them to take The Spanker to the next level. Their efforts have shown the difference a good local makes to the community it serves, especially in difficult times. With all the improvements planned, they'll be giving people from across the area even more reasons to visit The Spanker."
Cheryl and Paul want to display the history of the pub, but one mystery remains – the origins of its name. Explains Cheryl: "There's a great affection in Nether Heage for the pub's name. We heard it could be named after a champion greyhound that lived in the village, and we'd love to find out more."