Cheers! Fenwick licensees Mark First Anniversary Milestone and Pub's Revival
25/02/2021
Investments , News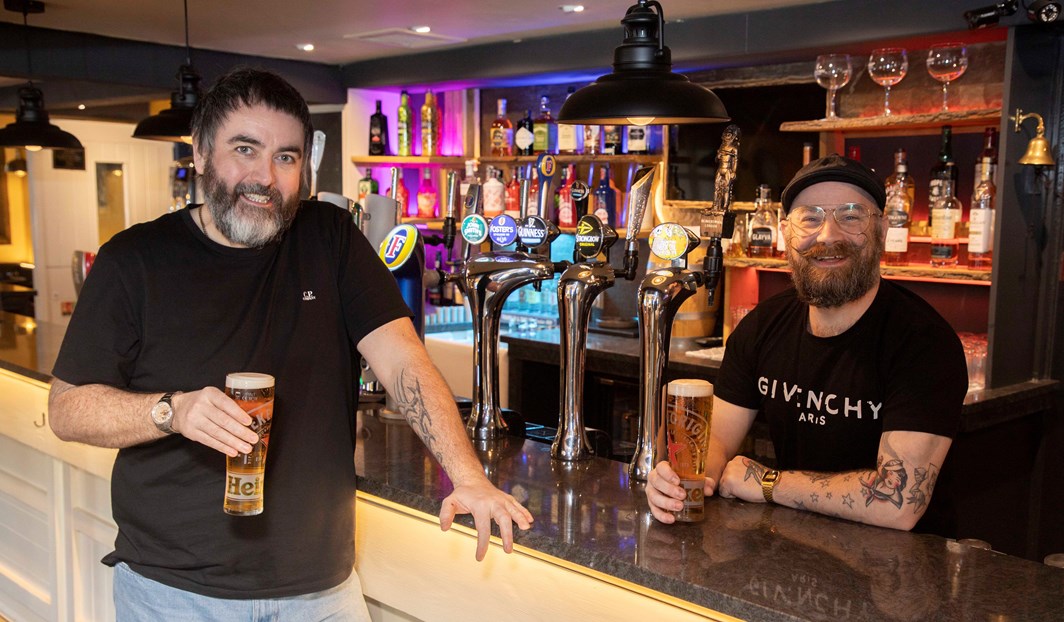 The licensees of an Ayrshire village's only pub are marking their first anniversary at the helm with a toast of thanks to residents for their help in reviving its fortunes despite the pandemic.
Kilmarnock residents Mikey Lennon and Gareth Kelly took over The Kings Arms in Fenwick at the start of March 2020 just as Covid hit. Undeterred, the duo forged ahead with their plans to transform the unloved, little-used local into a great quality pub serving outstanding food. As the nation went into lockdown, Mikey and Gareth embarked on a £30,000 refurbishment of the historic 18th century inn. Realising the pub had no income and keen to see it thrive, residents pitched in, donating their time to decorate, redo the lighting and revamp the garden, making it one of the biggest in the area.
The Kings Arms' cosy new-look, 120-seater garden and gastro menu put the local on the map when pubs reopened in July. By the time it had to close in October, it had become the hub of the community and was attracting customers from a 20-mile radius.
Mikey and Gareth – who previously ran Bakers Night Club in Kilmarnock – had always wanted a pub of their own, and finding one so close to home was a dream come true. Says Mikey: "Opening at the start of the pandemic threw all our plans out of the window. We've only been able to trade without any restrictions for 18 days in the last year. The village has backed us throughout; we've been overwhelmed by their support. We'd wanted to show our thanks with a first anniversary party, but that'll have to wait, and for now we're raising a virtual glass to everyone."
Since new restrictions forced The Kings Arms' closure in October, Mikey and Gareth have been determined to keep it afloat so that it would be in the strongest position to reopen. Comments Mikey: "We've been extremely fortunate to have most of our rent cancelled by our landlords, Star Pubs & Bars. Without that, it would have been very tough." To cover other costs, keep in touch with customers and bring them a taste of The Kings Arms at home, the pair have launched a Friday and Saturday night banquet-style gourmet takeaway, with a different themed menu every week. And they are already looking ahead, developing a new menu that will be bring something different to Ayrshire when The King Arms opens again.
Comments Campbell Dorward, Star Pubs & Bars' area manager for Ayrshire: "Mikey and Gareth have put their all into The Kings Arms. They've made it an asset to the village and a centre of local life. It's an amazing achievement in the midst of a pandemic with all the closures and restrictions. We've been delighted to help out with rent support. We wish them all the best for the future."
Adds Gareth: "There have been so many positives despite all the setbacks. The Kings Arms has been part of Fenwick for centuries, it's the village's pub, and we couldn't have done it without their support."