Major Investment to Revitalise Landmark Wirral Pub
25/07/2023
Investments , News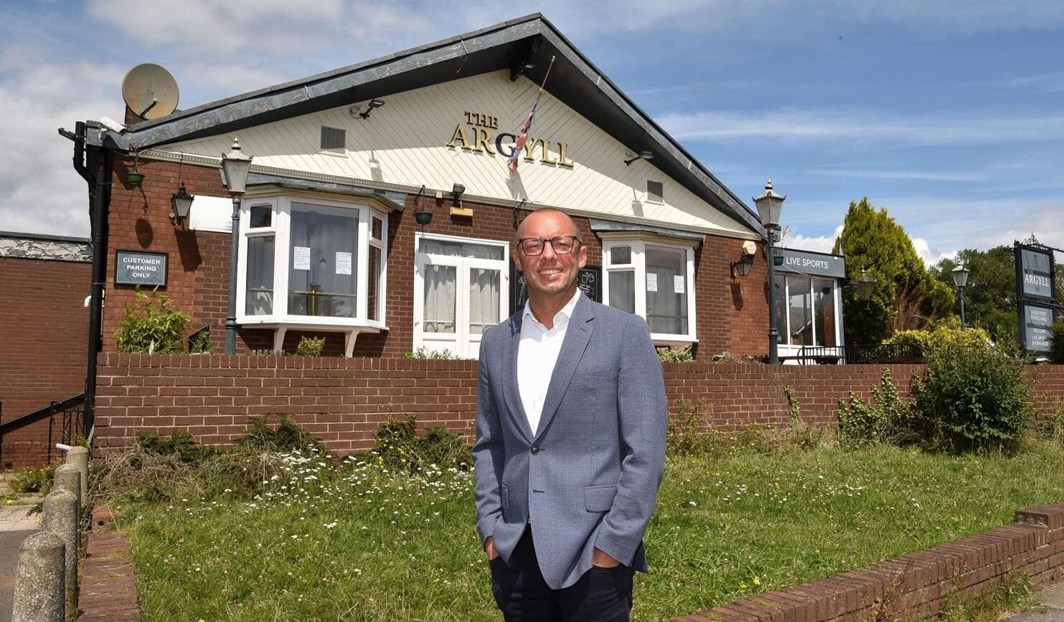 Work is set to start on a £170,000 refurbishment that will give a new lease of life to a landmark pub in the centre of Eastham.
The investment at The Argyll on Plymyard Avenue is being undertaken by Heineken-owned Star Pubs & Bars and new licensees Blind Tiger Inns, who have three other pubs in Merseyside. It will transform the tired local into a top quality pub that caters for the whole community and specialises in sport and entertainment, renaming it The Argyll & Sutherland to mark its new direction. The name change is a nod to the pub's past – opened in 1956, it was originally called The Argyll & Sutherland Highlander after the army regiment before becoming The Argyll.
The pub will close for its overhaul from 31st July and is scheduled to reopen in mid- August, creating 12 new jobs.
The outside work will renovate the exterior of the building giving it a smart new look, complete with new signage, lighting and café-style seating at the front, to enhance the neighbourhood. It will also make over the garden, adding pretty lighting, planting and new furniture – including modern high bar-style seating. 
Whilst The Argyll & Sutherland will remain a traditional local, it will be completely revamped with a stylish city centre bar design. The overhaul will replace everything in the pub from the furniture to the flooring. New features will include booth seating, contemporary wall art, timber flooring and a stunning modern bar with steel shelving.
To enable The Argyll & Sutherland to host different groups and occasions, the layout will incorporate a spacious bar, a comfortable lounge area with soft seating and a stage for live music. Sports enthusiasts will be well looked after, too, with a dedicated sports zone kitted out with a new pool table, darts throws and big screens. The pub will have BT Sport, Sky Sports and Amazon, as well as pay-per-view channels, and will screen all sports and major tournaments. 
Drinks-wise, the pub will offer a wide selection of beers, wines, spirits and soft drinks from premium brands to trusted favourites at all price points. 
Chris Tulloch, managing director of Blind Tiger Inns, says the aim is to restore The Argyll & Sutherland as "a hub of the community and make it an asset to Eastham". To that end it will put on a host of activities to bring residents together, ranging from quizzes and bingo to live acts and fundraisers in support of charities selected by regulars. The pub will also provide a meeting space for local organisations and groups and, with its emphasis on sport, set up teams for darts, pool and other sports. 
Adds Chris: "The Argyll has lots of potential but is in need of TLC if it's to thrive for the long term. We'll be giving it the full works – it'll be unrecognisable inside. We can't wait to open the doors and show people their new-look local."
Comments Star Pubs & Bars' investment manager Andy Bowden: "We're delighted to be backing Chris with this investment to bring The Argyll & Sutherland back to life. He has a fantastic track record for turning round struggling locals that have lost their lustre. The plans for the pub are really exciting and will give The Argyll & Sutherland the 'wow factor'. With its bar, lounge and sports areas it will meet everyone's needs and give Eastham residents a superb pub right on their doorsteps."