£440,000 Refurbishment to Reopen Prominent Chesterton Pub After Four Year Closure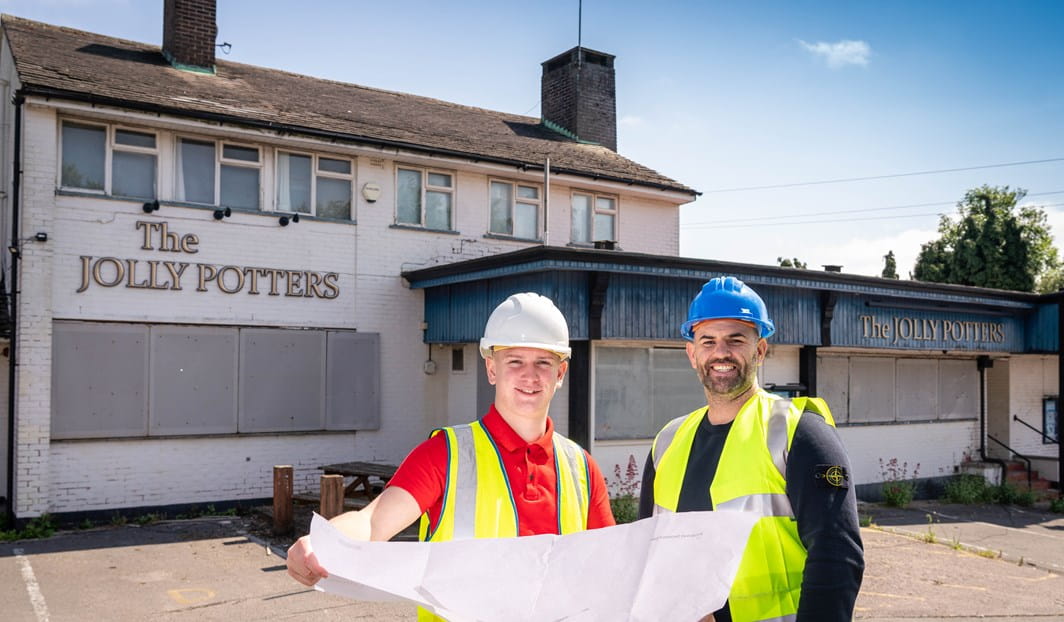 Work is set to start on a £440,000 revamp that will reopen a prominent Chesterton pub after a four-year closure, ending residents' concerns for its future. 
The investment at The Jolly Potters on Crackley Bank is being undertaken by Heineken-owned Star Pubs & Bars and will see James Parker and Chesterton born-and-bred Arlom Spillane take the helm as the new licensees. The project will transform The Jolly Potters into a great quality family-friendly local. It will add food, events and a fantastic sports zone, turning The Jolly Potters into "a local that has it all," according to James. Work starts on the 24th July and the pub is scheduled to reopen in mid September. 
The outside of the tired building will have a complete overhaul, enhancing the neighbourhood. The pub will be repainted and have new cladding, signage and lighting as well as an attractively planted exterior seating area at the front. The large rear garden will have a makeover, too, including new seating for 100 and a covered section for all weather use. To meet the needs of the large number of local dog walkers, The Jolly Potters will be dog friendly and have water bowls and free treats for customers' four-legged friends.
A complete internal refurbishment will upgrade the pub throughout, making it more welcoming, contemporary and stylish. The pub will have a comfortable lounge with its own entrance and toilets and a spacious bar. For sports enthusiasts there will be a dedicated sports zone kitted out with pool, darts and a high tech AV system with big screens showing BT and Sky Sports. 
With a shortage of coffee shops and places to eat locally, James and Arlom will serve hot drinks from mid morning onwards and a menu of traditional pub favourites, such as burgers and fish & chips. Food will be good quality but reasonably priced with options for children. 
James and Arlom want The Jolly Potters to be known for its drink as well as its food. To that end, a state-of-the-art cellar dispense system is being installed to ensure consistently perfect pints, and the duo will offer a wide selection of wines, spirits and beers.
Arlom's great grandparents, grandparents and parents were all regulars of The Jolly Potters, and the family had been saddened to see the pub close. Says Arlom: "Like a lot of local residents I've got many happy memories of The Jolly Potters in its glory days. My nan celebrated her 50th there. The pub was hugely important to the community when I was growing up – all ages went there. People are desperate for it to reopen and to have somewhere to meet up again. James and I had always dreamed of having a pub of our own, and when we saw the plans for The Jolly Potters we jumped at the chance to take it on. We'd like it to be a hub of the community, and can't wait to open the doors."
Arlom and James plan to run a host of activities to bring residents together, ranging from music nights and quizzes to bingo and senior citizens' coffee mornings. The duo will open up The Jolly Potters as a meeting space for local organisations and groups and, with the pub's emphasis on sport, are appealing for anyone interested in setting up teams for darts and other games to get in touch.
Adds Star Pubs & Bars' area manager Andrew Myatt: "We want to make The Jolly Potters an asset to Chesterton, and are delighted to be joining forces with James and Arlom to bring the pub back to life. They know Chesterton well and are passionate about creating a superb local. The investment will give The Jolly Potters really broad appeal. With its separate lounge, bar and sports area it will cater for everyone and all occasions."