In the last few years alone, we've invested £200 million on pub refurbishments to support our licensees' visions for their pubs. So, we know a thing or two about them. Kicking off 2023, we thought it'd be helpful to review our breadth of experience and share some of the things we've learned about approaching pub refurbishments. Firstly, to make sure they are worthwhile investments for all parties. And secondly (but as importantly), to create great pubs for customers across the UK.
We sat down with Business Development Managers, Property and Investment Managers and some of our licensees, to discuss key considerations. Here are five key takeaways to plan for the good, avoid the bad, and get through the - possibly challenging (!) - parts of the process.
One. Not all refurbishments are equal.
First things first. The range of refurbishments is vast. Of course, there are projects which undertake complete overhauls of pub properties to provide something completely new. However, many pubs can benefit from a gentle facelift, reconfiguring a space, or opening a new revenue stream. It's just about making the right investment for the right pub. Often, for more experienced people with (or looking for) a Leased & Tenanted agreement, it's worth having a chat with your business partner, to see if a joint refurb investment is worth considering.
Regardless of size, however, the ambition for every pub refurbishment project should always be to create a great pub that is a competitive business. So, it's worth considering whether you need that huge investment, or a few tweaks here and there might be more effective for your pub.
Two. Do your research.
Successful pubs have been thoughtfully created by the individuals that run or intend to run the business. Quite simply, they meet a specific group of customers' needs. Because you can't be all things to all people. That just leads to confusion.
To understand the viability and opportunity for any refurbishment, you need to do your research. For us, it's our investment management team that leads the research prior to a larger-scale refurbishment project.
What's our approach?
We analyse the community and local people's expectations in the surrounding area.
We review the pub itself in its current state and the competitor set.
We look for gaps in the market and scout for opportunities.
And we'll identify potential opportunities for additional income streams, and any risks or barriers.
It's a comprehensive insight gathering phase to ensure the opportunity is right and the refurbishment investment, worthwhile.
Be ambitious, but realistic would be our advice. Identifying the purpose of the space and nailing the vision for the pub will help you navigate the inevitable decision-making which follows.
Three. Factor in a recce and onsite session.
Get everyone involved to visit the pub and the local area. And come armed with the research and ideas to fuel discussion. This ensures everyone is on the same page from the outset and can start defining what the pub could become with the right investment.
Great pubs feel great when you're in them. Think about what it feels like to be in the pub. Do you want it to feel premium? What about family-orientated? Or is it more of a sports-focused space for groups of friends? Build out your vision. Explore different occasions you might be serving, and scenarios you'd expect. Think about what would need to happen within the space to bring the vision to life in those moments: The décor, external appearance of the pub, drinks ranges, food offering, staff requirements, promotions etc. Think about the capacity of the kitchen if food is to be a core focus. Think about floor space if live entertainment is to be central to the operation.
Once we have those details nailed down, we encourage our design team to push themselves, creating what we call "a scheme" (like the one pictured below), to capture the creative vision and pursue a pub with individuality.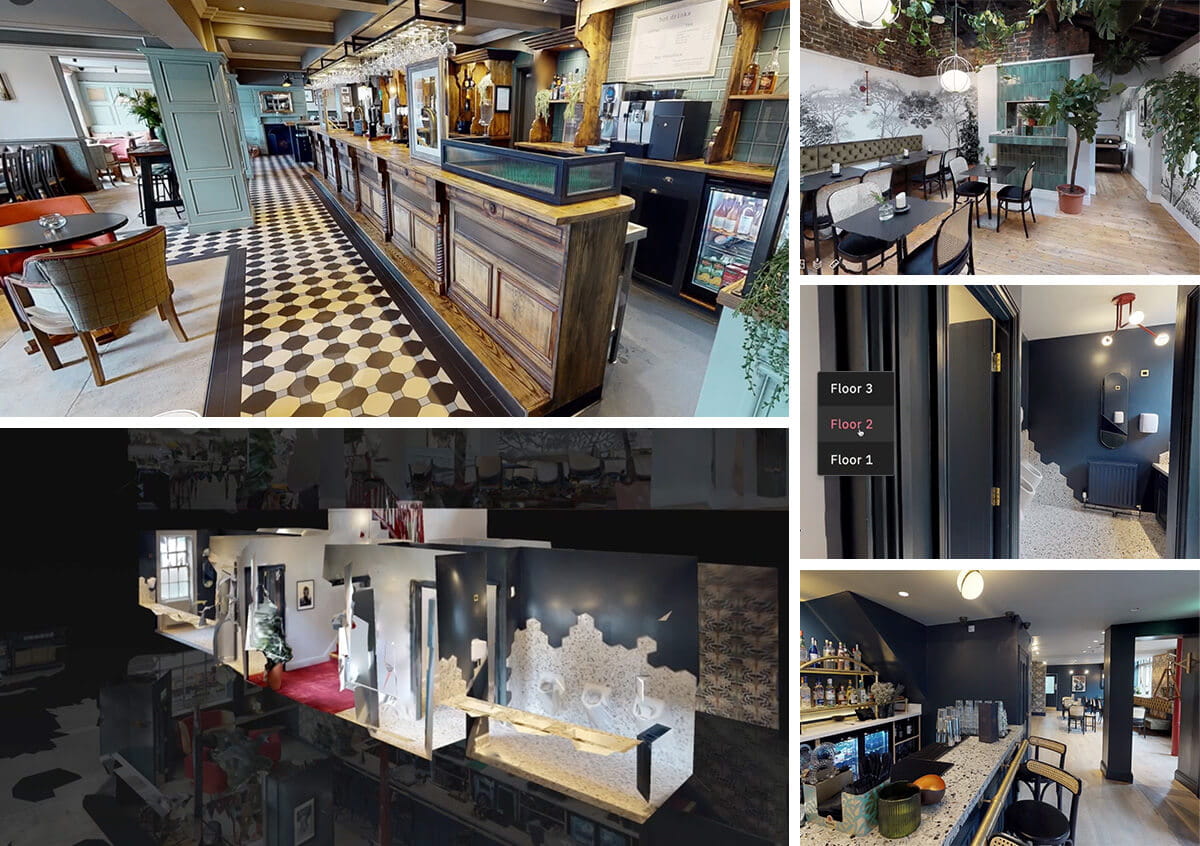 Four. Follow the process and keep to the plan.
Once you've defined your plan for the pub and agreed, secured or ringfenced investment for the refurbishment, it's time to commit to the plan and outline the process. It's easy to get carried away. We get it. But to make the investment worthwhile for all parties, the rigour of the commercial plan based on a sound creative vision, and the benefit of sticking to it, is so worthwhile. Of course, there may be slight changes and amendments here and there. Keep your head and trust your plan. There's confidence in that initial plan. And in you. Just follow through with it.
Five. Enlist a team you can trust.
As with any refurb or renovation, the people involved are either going to make or break the project. Our advice would be to seek out people or a business partner you trust who have experience in the type of refurbishment project you're planning.
For our major refurbishments, the dream team involved from the initial recce visit, includes a Project Manager, Designer, Contractor, Business Development Manager and Quantity Surveyor. At the heart of the team is the licensee. An important part of our job is getting to know the licensee. Getting to know their vision, certainly. But also getting to understand very quickly how much guidance or involvement they need or want to bring the approved plan to life. We know that sometimes savvy multiple operators will need us in different ways from ambitious first timers. For us, trust is built on fulfilling the partnership in a way that reflects the licensees' needs.
Trust in the team is critical for another reason, not just guidance or support. Because while the selected contractors and suppliers complete the refurbishment work, as the licensee or person set to run the pub, you've got to get on with the hard graft of getting the business ready for when the work is complete. Without trust in your partners to get the job done according to the agreed vision, it's difficult to focus on the launch plan, suppliers, recruitment, marketing, and social media plans, etc. There's work to be done on both sides. So, you need to trust that everyone's got a mutual drive to succeed and is doing what's necessary to bring your vision to life.
Hopefully, these five considerations will help you if you've found a pub you want to bring back to life. Or want to improve your current pub business.
Our commitment to refurbishment investments stems from our love of pubs. Our longer-term drive to take pubs from where they are, to where they could be, something better. With licensees' visions at the heart of that strategy.
Check out our current pub vacancies or find out more about taking on a pub with us.